Anuvu
Anuvu is a satellite service provider and a satellite operator headquartered in Los Angeles area CA, USA. The company plans to launch a constellation of eight small satellites in Geostationary Orbit (GEO), called MicroGEO, in partnership with satellite manufacturer Astranis.
Anuvu and Astranis are targeting launch for two MicroGEO satellites in early 2023, with six more to follow. These first two satellites (Anuvu-1 & Anuvu-2) will provide connectivity for the aviation and maritime customers over North America and the Caribbean. Anuvu's mobility customers including Southwest Airlines, Disney Cruise Lines, and Norwegian Cruise Lines are the first to benefit in the North American and Caribbean regions.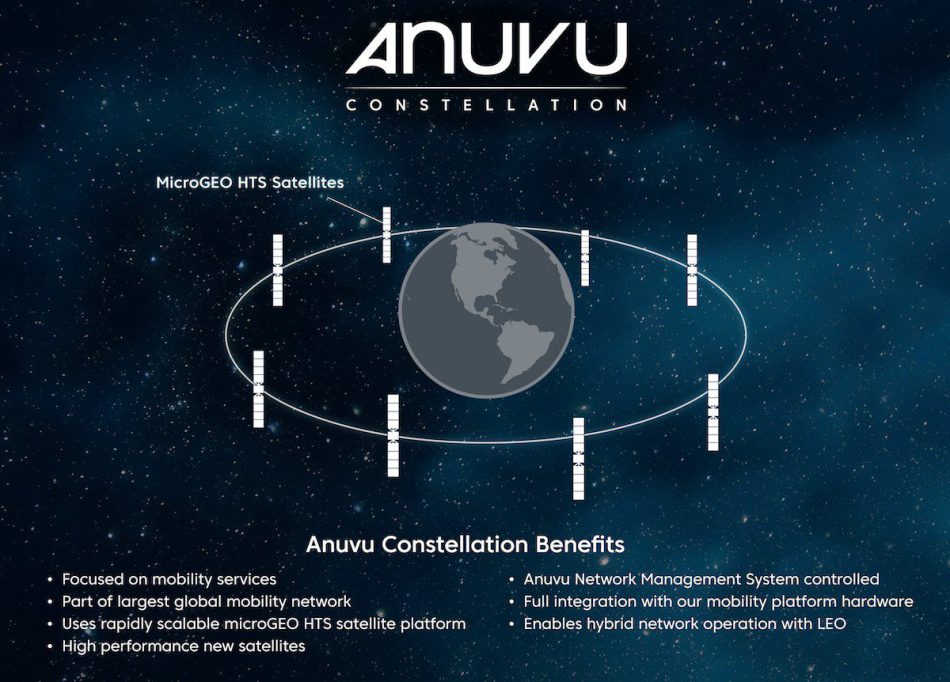 The company was formerly known as Global Eagle Entertainment (GEE) that provided media services and satellite Wi-Fi to aircraft, boats and remote locations. In July 2020 GEE filed for Chapter 11 bankruptcy protection, citing the COVID-19 pandemic's impact on global travel and the significantly reduction of airline and cruise line activities.
In May 2021 GEE changed its name to Anuvu when the company emerged from Chapter 11, reflecting its focus on next-generation passenger and guest connected experiences in the air and at sea.

Merges and Acquisitions
Anuvu was formed in May 2021 when former company Global Eagle Entertainment (GEE) emerged from Chapter 11 Bankruptcy protection. The lenders of the Los Angeles-based company, which had close to 1.1 billion USD in debt, formed a joint entity that would acquire GEE's main assets for 675 million USD. They invested about 218 million USD through a restructuring deal that nearly halved its debt load.
As part of a strengthened focus on mobility markets post-restructuring, the company sold also its non-governmental organization (NGO) and African fixed-site land business to maritime connectivity provider Marlink.
In November 2021 investors, including Apollo Capital Management, Sound Point Capital and Arbour Lane Capital Management paid 50 million USD to invest in the mobile connectivity provider having its own constellation of MircoGEO satellites. The investment will support the first two satellites out of eight that Avunu ordered in July 2021 from satellite manufacturer Astranis. The company currently leases capacity from other satellite operators (Eutelsat, Arabsat, YahSat, Intelsat) to provide Wi-Fi on aircraft, boats and remote locations worldwide.

Global Eagle Entertainment
Global Eagle Entertainment Inc. (GEE) was a mayor satellite service provider when it acquired Emerging Markets Communications (EMC) in July 2016. EMC was a leading communications services provider to maritime and hard-to-reach land markets. EMC acquired Maritime Telecommunications Network (MTN) in 2015 and was headquartered at MTN's Miramar, Florida offices. That new company provided remote connectivity to approximately 8,000 on-land sites and 1,600 vessels.
EMC had offices in the U.S., Europe, Brazil, Africa and Asia and included facilities with the largest global traffic in Holmdel, N.J. USA and Raisting, Germany.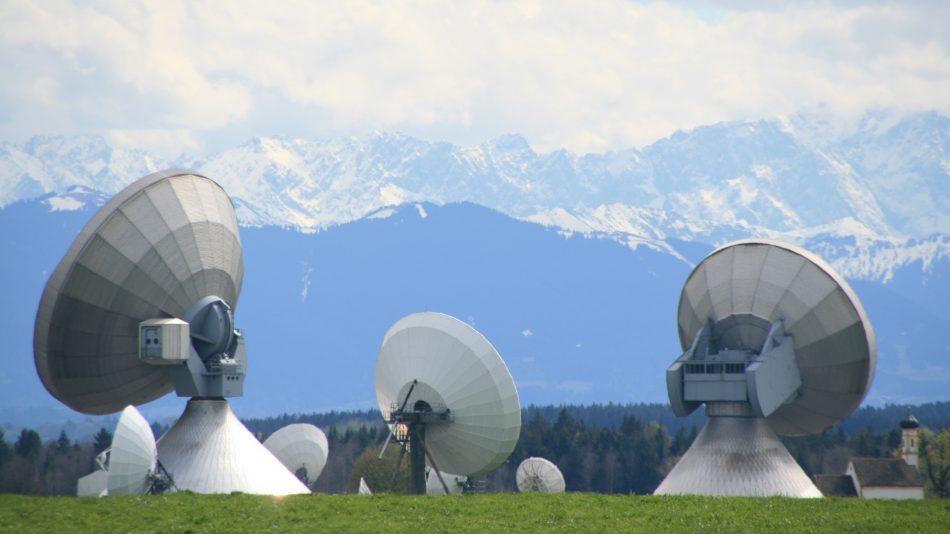 EMC tailored its suite of services and products for the most demanding users of mission-critical applications for oil & gas, cruise and ferries, yachts, commercial shipping, mobile network operators, U.S. Government, the United Nations (UN)/non-governmental organizations (NGO's), and global enterprises.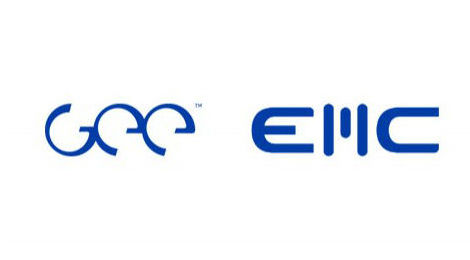 The combination of GEE and EMC created one of the world's largest providers of satellite-based connectivity and media to the rapidly growing global mobility market. GEE had established a strong track record of successfully delivering media content and connectivity to airlines, while EMC had become a top provider of connectivity to maritime and hard-to-reach land markets.

On February 14th, 2022 Anuvu signed an agreement for capacity increase of 10Gb in Ka-band on GEO satellites operated by satellite operator Telesat. The deal included additional capacity over the Southeastern U.S., the Caribbean, the Gulf of Mexico and Central America. Telesat is preparing for a hybrid network combining its current GEO Ka-band, Ku-band, and C-band capacity, with their Lightspeed LEO capacity, and its own Micro-GEO satellites, which Astranis is building.

All trademarks, logos and images mentioned and showed on this page are property of their respective owners.

Resources
www.anuvu.com
www.anuvuconstellation.com
www.superyachtnews.com  edition April 29th 2015
www.prnewswire.com  edition July 13th 2015
www.satellitetoday.com  edition July 17th 2015
www.maritime-executive.com  edition July 28th 2016
www.spacenews.com  edition July 22nd 2020
www.spacenews.com  edition March 23rd 2021
www.businesswire.com  edition May 25th 2021
www.satellitetoday.com  edition July 27th 2021
www.spacenews.com  edition November 30th 2021
www.viasatellite.com  edition February 14th, 2022