Yahsat
Al Yah Satellite Communications (Yahsat) is a satellite communications company and a subsidiary of the Abu Dhabi Government's strategic investment company, Mubadala Development Company. The company is headquartered in Abu Dhabi, UAE and operates five satellites in orbit, Al Yah 1, Al Yah 2 and Al Yah 3 and Thuraya-2 and Thuraya-3 when Yahsat acquired Thuraya Telecommunications company in 2018.
Yahsat offers voice, data, video and Internet services for broadcast, Internet and VSAT users for both private and government organizations reaching more than 80% of the world's population.
Al Yah Satellite Communications (Yahsat) provides a wide range of C, Ku, Ka, and L-band solutions for land, maritime and aero platforms to consumers, governments and enterprises.
The company's businesses consist of:
Yahsat Government Solutions (YGS)– Managed end-to-end secure communication solutions and government capacity,
Thuraya– Mobile Satellite Services operator for L-band based voice and data solutions,
YahClick– High-speed satellite broadband for consumer, enterprise and government users,
YahLink– IP trunking solutions, corporate networking and backhauling capacity,
Yahlive– Premium services for broadcasters and a select choice of TV channels.
In 2020, Yahsat commenced construction of Thuraya-4 NGS, the next generation telecommunications system for Thuraya, which is due to be in service by 2024.

Company History
Yahsat was established in 2007 to meet the growing demand in the region for government, commercial and consumer satellite communication services for the EMEA and South-West Asia regions.
In August 2007, Yahsat approved a consortium of EADS Astrium and Thales Alenia (aka Thales Alenia Space) to construct Yahsat's own satellites. The manufacturing took 36 months to be completed in Europe. Arianespace was appointed to launch the first satellite Y1A which is currently positioned at 52.5° East.
In April 2008, Yahsat signed a 15-year lease agreement with the UAE Armed Forces, as Yahsat's first government customer to provide secure satellite communications in the UAE. As part of this contract, Yahsat will supply the ground terminals and gateway infrastructure for satellite network services.
In April 2009 Yahsat entered into a partnership with European satellite operator SES to create a new company operating under the brand name YahLive offering Direct-to-Home (DTH) television capacity and services to various countries in the Middle-East, North Africa and South-West Asian region.
On April 22nd 2011 Yahsat launched its first satellite, Al Yah 1 that was built by manufacturer Thales Alenia Space. The satellite was orbited by launch operator Arianespace on their Ariane V rocket.
In 2012 Al Yah 2, was added to its fleet and launched by International Launch Services (ILS) on a Proton Breeze M launch vehicle from the Baikonour Kosmodrome in Kazakhstan.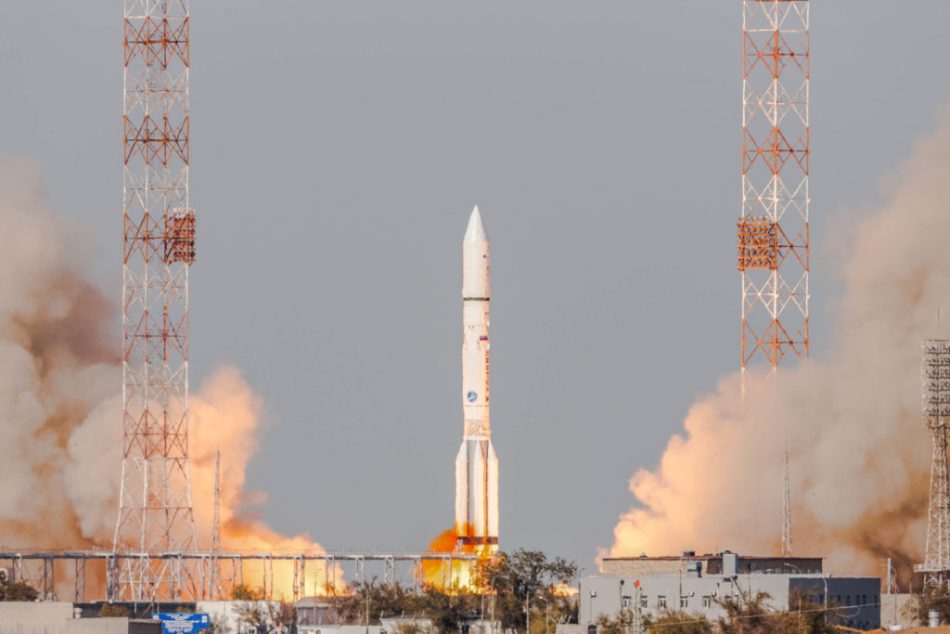 In January 2018 Yahsat launched its third satellite, Al Yah 3, extending its commercial Ka-band coverage to 35 additional markets, including South America for the first time. Through YahClick, its joint venture with Hughes Network Systems LLC, Yahsat provides high-speed fixed satellite broadband services to over 60% of Africa's population and to over 95% of Brazil's population.
In 2018 Yahsat acquired UAE's mobile satellite operator, Thuraya Telecommunications adding three satellites to its fleet. Two L-band satellites, Thuraya-2 and Thuraya-3 will significantly expand Yahsat's current satellite solutions portfolio for both commercial and government verticals, as well as its global footprint.
The Thuraya-1 satellite was positioned above Korea for testing purposes. It was launched on October 21st 2000 by Sea Launch launch operator on a Zenit 3SL rocket. The spacecraft was declared EOL in May 2007.
Thuraya-2 was also launched by Sea Launch on June 10th 2003. It is located at 44° E. The satellite can handle 13,750 simultaneous voice calls.
The third satellite, Thuraya-3, was planned for launch by Sea Launch in Q1 2007, and the start of Far East and Australia service was planned for 15 October 2007. The failure in January 2007 of the NSS-8 mission on another Sea Launch rocket led to a substantial delay in the launch of Thuraya-3, which was rescheduled for 14 November 2007, but the launch was postponed several times due to sea conditions. The launch occurred successfully on 15 January 2008. Thuraya-3 satellite is located at 98.5° E.
In August 2020 Yahsat signed a contract with satellite manufacturer Airbus Defence & Space to build another satellite for its Thuraya mobile voice and data connectivity subsidiary. The contract covers a satellite designated Thuraya-4 NGS, and includes an option for a Thuraya-5 NGS satellite that would complete the replacement of Thuraya's aging two-satellite fleet of Boeing-built spacecraft.

All trademarks, logos and images mentioned and showed on this page are property of their respective owners.

Resources
www.yahsat.com
www.answers.com
www.wikipedia.com
www.measat.com
www.mubadala.com
www.thuraya.com
www.satellitetoday.com edition April 26th 2018
www.spacenews.com edition August 28th 2020