Kacific
Kacific Broadband Satellites Pte, Ltd. is a new broadband satellite operator specifically designed to deliver high speed internet to the enterprises, agencies and remote communities of the Pacific islands, Indonesia, the Philippines, New Zealand and Papua New Guinea. Headquartered in Singapore, Kacific Broadband Satellites will provide direct-to-the-building Internet speeds of up to 50Mbps. Their new Kacific-1 satellite, jointly owned with satellite operator SKY perfect JSAT, will substantially improve the access to affordable broadband for all islanders, local businesses and collective systems.
Various partners (Chinasat of Beijing and Sky Perfect JSAT of Japan) are already involved in the project and have already started giving shape to Kacific's new value chain. Satellite operators, telecom infrastructure providers, tourism industry players, local governments, regional aid programs and local companies all have a role in the new Kacific ecosystem.
More than 50 million people in communities across the Pacific live without fast, affordable access to the Internet. More than 13 million live on outer islands; a further 2 million tourists visit them every year. Over 40 million more live in locations surrounding the Pacific, such as remote parts of Eastern Indonesia, where there is little connectivity. They all struggle to access the Internet with good quality and acceptable cost.
As a result of their remoteness and dissemination, the islands suffer a chronic lack of connectivity. Paradoxically, the high-quality Internet enjoyed by the connected World exacerbates the isolation of the Pacific islands. As the Internet makes the World a smaller place, many islanders struggle to get access to broadband Internet, despite their willingness and ability to pay.
Almost 2 years after the U.S. Export-Import Bank's six-month shutdown satellite manufacturer Boeing finalized the sale of a HTS satellite to Kacific. The Kacific-1, will be jointly owned by Sky Perfect JSAT Corporation and Kacific Broadband Satellites and was launched on 16 December 2019 by launch operator SpaceX. The spacecraft is currently branded as JCSAT-18/Kacific-1.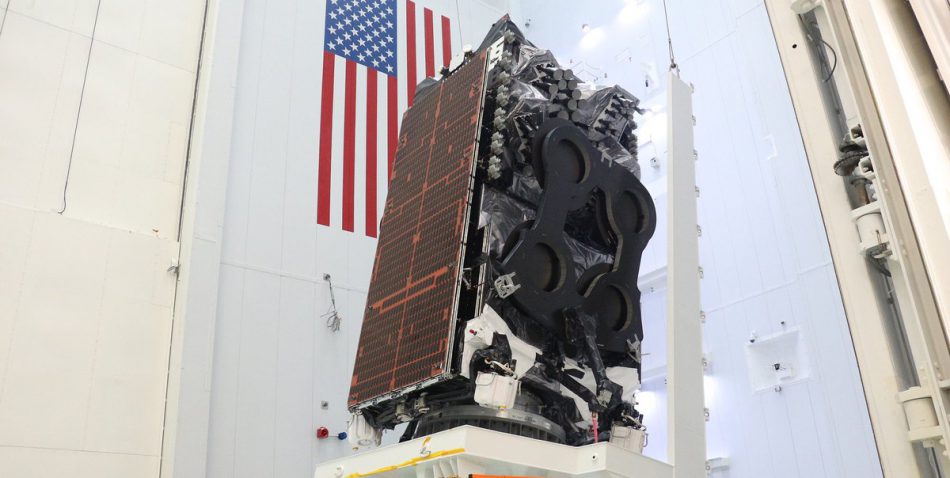 In October 2020 Kacific prepared its second satellite, Kacific-2. The satellite will add capacity to its largest, high-demand markets of Indonesia, the Philippines and Papua New Guinea, as well as expand its reach wider into South-East Asia and further into Central and Western Asia and potentially Eastern Africa. 

Like Kacific's first satellite, Kacific-2 will use a spot beam system with dynamic bandwidth reallocation to respond to changes in market demand pre- and post-launch. This advanced technology allows the company to respond rapidly to new growth opportunities and provide a broader range of services for each market, by changing bandwidth configuration even when the satellite is already in orbit. Kacific-2 will also take advantage of the latest beam forming technologies.

Kacific signed an 11 million USD contract with Kratos Defense & Security Solutions to build satellite gateway ground stations for the new satellite.

HTS Satellite
Over the last few years, a new type of satellite, the High Throughput Satellite (HTS), has come into operation in many parts of the World. These spacecrafts are designed to provide broadband access through the use of many concentrated beams and other advanced technologies such as Ka-Band frequency and adaptive modulation. Those ambitious projects have demonstrated success in the US, Europe, Asia and the Middle East.
Based on this validated Ka-band HTS technology, Kacific Broadband Satellites has developed a business model that offers fast, affordable and accessible broadband Internet everywhere in the Pacific. End-user terminals can be set up in 20 minutes with no installation cost, giving easy and immediate access to Kacific low-cost bandwidth. This game-changer solution is suitable for residential, commercial and governmental use.

The Edge-of-the-World
Kacific's target market comprises several distinct geographic segments: the islands of the Pacific, and the landmasses of New Zealand, eastern Indonesia and Papua New Guinea. It plans to provide satellite coverage to the majority of the island nations in Micronesia, Melanesia and Polynesia including the Solomon Islands, Western Samoa, American Samoa, Cook Islands, Tonga, Niue, Tokelau, French Polynesia, Kiribati, Northern Mariana, Vanuatu, Marshall Islands, Palau, Micronesia, Nauru, New Caledonia, Papua, Tuvalu, Wallis and Futuna and Guam.
Tuvalu Islands
Tuvalu is a sovereign state comprising nine islands situated midway between Hawaii and Australia. It has a population of around 10,000 and won independence from the United Kingdom in 1978. Because of their relatively low elevation – no point on Tuvalu is more than 4.5m above sea level – its islands are vulnerable to the effects of tropical cyclones, spring tides and future rises in sea levels. In June 2014 a five-year agreement with Tuvalu Telecommunications Corporation was signed to provide up to 150Mbps of bandwidth to the island group.
Tokelau Islands
Tokelau, composed of three small coral atolls situated north of Samoa, is a Polynesian territory of New Zealand with a population of just 1,400 (figures from 2013). There is no airport in Tokelau, and a chartered vessel, operated under an arrangement between New Zealand and Tokelau, is the only means of transport to and from the islands at present: the trip from Apia in Samoa takes over a day. Despite its small size and remoteness, Tokelau is committed to thriving in a digital world. Although connectivity is expensive, the country has seen a pattern of moderate Internet usage in recent years and a rate of Internet penetration comparable to other, more populous Pacific countries. The agreement with the authorities of Tokelau is the sixth that Kacific has signed since it announced its intention to provide a satellite-based broadband service in December 2013.
Solomon Islands
Solomon Islands are a sovereign state consisting of a large number of islands in Oceania lying to the east of Papua New Guinea and northwest of Vanuatu and covering a land area of 28,400 sq km (11,000 sq mi). The Capital, Honiara, is located on the island of Guadalcanal. The islands have been inhabited for thousands of years. In 1568, the Spanish navigator Álvaro de Mendaña was the first European to visit them, naming them the Islas Salomón. Great Britain defined its area of interest in the Solomon Islands archipelago in June 1893, when Captain Gibson R.N., of HMS Curacoa, declared the southern Solomon Islands as a British Protectorate. During the Second World War, the Solomon Islands campaign (1942–1945) saw fierce fighting between the United States and the Empire of Japan, such as in the Battle of Guadalcanal.
The official name of the then British territory was changed from "the British Solomon Islands Protectorate" to "Solomon Islands" in 1975. Self-government was achieved in 1976 and independence was obtained two years later. The country has a population of around 600,000.
Kiribati Islands
With a population of 100,000 people across 3.5 million sq km of islands and ocean, Kiribati is the 18th largest nation in the world in terms of its exclusive economic zone, with one of the most disseminated populations on the planet. That poses particular connectivity challenges: to date, only 6% of households have broadband and service is slow and expensive and it has not been economical to provide service to many of the remote islands. This agreement is the fifth that Kacific has signed since it announced its intention to provide a service in December 2013.

All trademarks, logos and images mentioned and showed on this page are property of their respective owners.

Resources
www.kacific.com
www.satellitetoday.com edition May 14th, 2014, article by Juliet van Wagenen
www.telegeography.com edition May 11th, 2014
www.pipso.org
www.wikipedia.org
www.satnews.com edition December 4th 2014
www.solomonstarnews.com edition October 21st, 2014
www.pacific.scoop.co.nz edition December 9th, 2013; press release
www.spacenews.com edition January 2nd, 2019
Satellite fleet by Kacific