Anritsu Spectrum Analyzer MS2661C (9kHz-3GHz)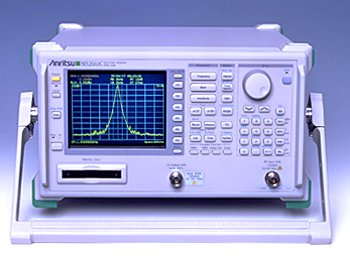 | | |
| --- | --- |
| Condition: | Used and tested |
| Model: | MS2661C |
| Manufacturer: | Anritsu |
Perhaps you're interested in this alternative product:
Anritsu Spectrum Analyzer MS2661C (9kHz-3GHz)
The Anritsu Spectrum Analyzer MS2661C (9kHz-3GHz) is ideal for signal analysis of radio and other equipment related to improving frequency usage efficiency, higher modulation and digitalization. This is a synthesized spectrum analyzer covering a wide frequency range from 9kHz to 3GHz. It has superior basic performance such as high C/N ratio, low distortion and high frequency/level accuracies and is easy to operate.
It has a 'Measure' function for evaluation of radio equipment (frequency counter, C/N adjacent channel power, occupied frequency bandwidth, burst average power and template decision function) and which enables the two-screen display and FM demodulation waveform display. The large selection of options means that a wider range of applications can be handled at reasonable cost.

Applications 
CATV-maintenance
Options allow the addition of 75 W impedance and a 75 W tracking generator
CDMA Cellular Measurements
Channel power, occupied frequency bandwidth, adjacent channel power
Time response for open-loop power control
Spurious measurements
PDC Measurements for base stations
Channel power, frequency, occupied frequency bandwidth, adjacent channel power
Spurious
GSM Measurement Software
Power, time response, adjacent channel power
Spurious
Intermodulation characteristics
CATV Measurement Software
Video power, C/N, frequency, cross modulation, CTB, modulation factor, hum
EMI Measurement Software
Radiated emission, conducted emission
Features
Frequency Range
9kHz to 3GHz (standard)
Rugged MIL-STD-28800 Class 3
Compact and Lightweight (15kg or less in standard configuration)
Portable for installation and maintenance
Frequency Counter with 1 Hz resolution
Superior RF-performance specifications
Bright full-color screen visible in direct sunlight
Remote Control Capability using SpectRe software (included)
Enables near-real-time remote monitoring, control, and data collection.
Control measurement parameters on the fly and see results immediately.
This is a compact easy-to-use Spectrum Analyzer including color LCD-display and portable battery pack. It will be tested before release and we provide a 90-day warranty.
Please refer to datasheet for specifications.
Anritsu Spectrum Analyzer MS2661C (9kHz-3GHz)