ASC Signal 3.7m Satellite Antenna with motorizable Pedestal Mount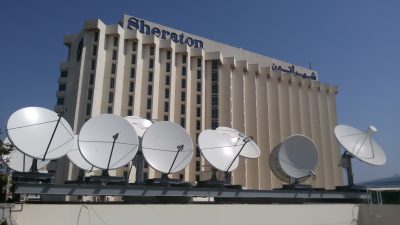 | | |
| --- | --- |
| Condition: | Used and refurbished |
| Model: | ES37K |
| Manufacturer: | ASC Signal |
We're sorry but this product is sold
Perhaps you're interested in this alternative product:
ASC Signal 3.7m Satellite Antenna with motorizable Pedestal Mount
The ASC Signal 3.7m Satellite Antenna with motorizable Pedestal Mount provides extremely accurate surface contour, high gain and superior efficiency. The versatile pedestal mount allows for motorized applications and features 180-degree azimuth coverage in three continuous overlapping ranges.
The aluminum hub and hot-dipped galvanized steel mount maintains pointing accuracy and ensures durability and reliability.
The antenna was dismantled from a building in the Middle-East and moved back to our facility in Europe and is in mint condition. The system will be checked out again prior to shipment.
We have two identical 3.7m antennas available for sale. Please ask us for us for more details.
ASC Signal Corporation was part of Communication & Power Industries, Inc. (CPI) and was a multinational manufacturer of high-performance, highly-engineered satellite Earth station, radar and HF antenna systems. ASC Signal customers included international broadcasters and Fortune 500 companies, as well as military and government organizations. ASC Signal was leader through design innovation that capitalizes on a more than 40-year heritage of engineering creativity and excellence.
In 2020 CPI sold the ASC Signal Antenna division to Kratos Defense & Security Solutions, Inc. CPI had acquired GDSatcom Technologies in 2019, but the U.S. Justice Department required CPI to divest its ASC Signal Division since there would be a monopoly on the antenna business in the USA.
ASC Signal 3.7m Satellite Antenna with motorizable Pedestal Mount
ASC Signal 3.7m Satellite Antenna with motorizable Pedestal Mount