AvL Technologies 2.4m MEO Transportable Tracking Ka-Band Antenna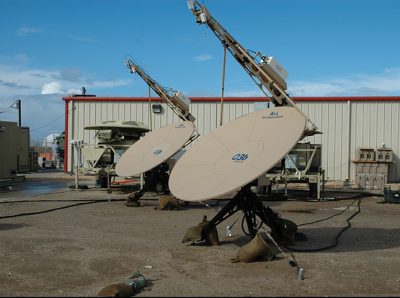 AvL Technologies 2.4m MEO Transportable Tracking Ka-Band Antenna

Small Satellites / LEO & MEO
For decades most satellites have been flying in geosynchronous orbit (GEO), and these satellites are large, powerful and mostly stationary. Many newer satellites are significantly smaller and are flying in Medium Earth Orbit (MEO), and Low Earth Orbit (LEO). Small satellites flying in MEO and LEO move rapidly along their orbits, so antennas communicating with MEO and LEO satellites must track their movement, and handoff communications from one satellite to the next, while maintaining a communications link.
AvL's family of MEO tracking Ka-band earth station antennas were developed to operate with O3b Networks and offer reflector sizes of 0.85m, 1.2m and 2.4m with additional sizes in development. These transportable antenna systems enable users to realize the benefits of high throughput, low latency MEO technology with the ability to move and rapidly deploy a MEO network's capabilities. The transportable terminal antenna system is designed to be transported in durable transit cases and to be set up and on-the-air within two hours.
AvL's MEO antennas are upgradeable to LEO tracking communications, also operate with GEO satellite communications, and will operate with multiple bands.

AvL Technologies Model 2470 2.4m MEO Tracker for O3b satellites
Key features

Each antenna packs into four durable 2-man lift cases
4m 9-piece carbon fiber reflector
Standard feed: 2-port Ka-band commercial (CP or LP)
Rapid deploy – can be assembled and on-the-air within 2 hours
Each system includes two antennas with make-before-break communications
Operates with AvL AAQ Auto-Acquire Antenna Control System
Upgradeable to LEO operation
Options include

2-port Ka-band MIL feed (CP or LP) (WGS)
2-port Ka-band wideband feed (CP) (WGS and commercial)
2-port X-band MIL feed (CP) (WGS) with optional Rx/Tx reject filter kit
2-port Ku-band precision feed (LP)
2-port Ku-band mode-match feed (LP) (enhanced cross-pol comp.)
AvL Technologies 2.4m MEO Transportable Tracking Ka-Band Antenna
AvL Technologies 2.4m MEO Transportable Tracking Ka-Band Antenna