Kratos 13.5m C-, DBS- or Ku-band THC Earth Station Antenna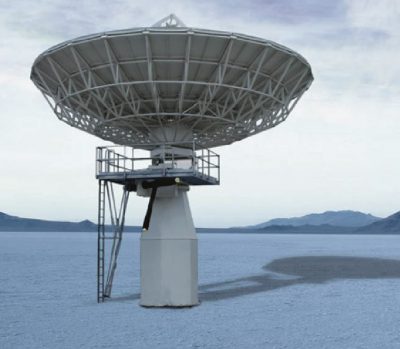 The Kratos 13.5m Earth Station Antenna (formerly CPI – Viasat) gives you high-performance in C-, Ku- or DBS-band geostationary satellite applications. The shaped Cassegrain reflector provides superior gain and sidelobe performance, meeting stringent FCC and international requirements. Precision stretch-formed and interchangeable aluminum panels are attached to a central structural steel hub with rigid, interchangeable structural trusses.
The panels are coated with a solar-diffusive white coating system that provides years of environmental protection while minimizing thermal expansion effects. The reflector back structure and subreflector spars are designed to exacting rigidity requirements under wind and gravity loads. The hub provides a protective enclosure for sensitive electronics.
The Kratos "Turning Head (THC)" mount provides an efficient structure for supporting and positioning the feed/ reflector system over a full 360° in 70° continuous sectors. Elevation travel provides 0° to 90° of continuous travel. Extended azimuth travel is available as an option. Antenna Control System options range from Step track, SmarTrack®, Predictive track and monopulse tracking systems.

Features 
Antenna patterns compliant with FCC, ITU, and Eutelsat regulations
High efficiency shaped-Cassegrain optics
Various C-, Ku- and DBS-band feed configurations
Steel turning head mount
CE compliant antenna controller and tracking options
Easily accessible hub space for electronics packages
Rugged aluminum and steel construction
Antenna configurations
ES135-1, 13.5m antenna with Motorizable Mount with AZ/EL Jackscrews
ES135-1LP, 13.5m Low PIM antenna with Motorizable Mount with AZ/EL Jackscrews
Please refer to the spec sheet for more technical details.
Skybrokers can integrate this antenna with the integrated tracking and monitoring systems. Our professional project and installation team can assist you with a turnkey solution. Please ask us for more details.
Kratos 13.5m C-, DBS- or Ku-band THC Earth Station Antenna
Kratos 13.5m C-, DBS- or Ku-band THC Earth Station Antenna