Norsat L-band Bias Tee BT1000-series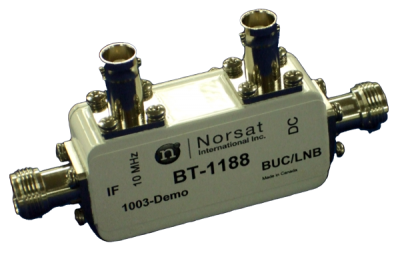 | | |
| --- | --- |
| Condition: | New OEM |
| Model: | BT1000-series |
| Manufacturer: | Norsat |
Norsat L-band Bias Tee BT1000-series
Norsat L-band Bias Tee BT1000-series L-band Bias Tee BT1000-series Line Attenuator allows up to 3A of current and passes 10MHz Reference Signal. It features a rugged machined aluminum chassis, and is environmentally sealed and moisture resistant

Specifications
DC Input
Voltage:
0V to 30V
Current:
BUC / LNB Connector: F, 2A max, N & SMA, 3A max.
Operating Temperature:
-30 to +50 ̊C
Storage Temperature:
-40 to +70 ̊C
Dimensions (L x W x H):
105 x 55 x 25mm (4.1 x 2.2 x 0.9inch.)
Weight:
170g (5oz)

Applications
Provides DC Supply to high power BUC (DC Power Supply seperate) incase modem cannot supply sufficient power
Allows up to 3A of current injection in N-Connector Model
Passes L-band signal
Passes or Injects 10 MHz Reference Signal
Norsat International, Inc. is a provider of unique and customized communication solutions for remote and challenging applications. Norsat's products and services include leading-edge product design and development, production, distribution and infield support and service of fly-away satellite terminals, microwave components, antennas, RF conditioning products, maritime based satellite terminals and remote network connectivity solutions.
The company is headquartered in Richmond, British Columbia, Canada and also has a facility in Aurora, Ontario, Canada.
Norsat L-band Bias Tee BT1000-series