RSI 16.4m THC 4-port RxTx C-band Antenna with motorized Kingpost Pedestal Mount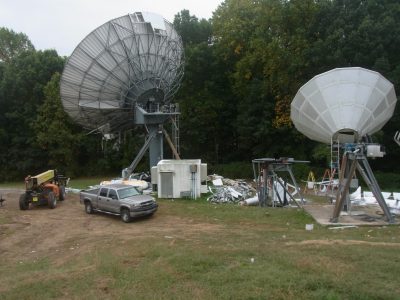 We're sorry but this product is sold
RSI 16.4m Satellite Antenna, C-band RxTx with Motorized Kingpost Pedestal
The RSI 16,4m Satellite Antenna is a Limited Motion Earth Station Antenna that is designed to meet the requirements of INTELSAT IESS Earth Stations and similar applications. This antenna is available in a limited Azimuth coverage design.
This Earth Station Antenna, configured as THC Cassegrain C-band, Rx/Tx,  includes a Motorized Kingpost Pedestal with AZ/EL jackscrews, a Hub enclosure and consists of 84-piece precision-formed aluminum panels with heat-diffusing white paint.
The reflector assembly incorporates precision aluminum AccuShape panels that are field interchangeable with each tier. The reflector support structures are all steel, utilizing interchangeable radial trusses that terminate in a monocoque hub assembly. The structural interface between the panels and radial trusses creates an assembly that is easily field adjusted and achieves a highly accurate reflector surface. This design results in an inherently high stiffness-to-weight ratio, ease of fabrication and simplicity of field installation.
This RSI 16.4m Satellite Antenna will be completely reconditioned and refinished to look and perform like new. We complete the antenna with new motors and gearboxes, new limits, reflector hardware kits are checked out and a documentation package and foundation plans are provided. System is guaranteed to meet OEM specs when properly installed by our professional installation team.

Features
Antenna meets requirements of INTELSAT IESS Earth Stations
Elevation-over-Azimuth design provides 0 – 90degr.
AccuShape panels provide superior contour accuracy
Dual Polarization Feed Systems
Switchable linear to Circular feed
Low Noise Amplifiers
Interfacility Links
Turnkey Installation recommended
Optional Civil Works
This antenna was dismantled in 2014 in Washington DC, USA as part of a Teleport decommissioning project. The antenna was de-installed by a 5-member professional installation team. Please check our projects accomplished page, click here.
RSI 16.4m THC 4-port RxTx C-band Antenna with motorized Kingpost Pedestal Mount
RSI 16.4m THC 4-port RxTx C-band Antenna with motorized Kingpost Pedestal Mount