Astrocast
Astrocast is a start-up satellite communications company with the most advanced global Nano-satellite IoT network to track, monitor, manage and communicate with assets in remote regions of the world. The company is based close to Lausanne in Switzerland.
With the world's most innovative network of 100 nano-satellites, Astrocast delivers a complete end-to-end, direct-to-orbit service that, state-of-the-art communication modules, and enterprise class services. The constellation will be completed by 2024, spanning the globe and allowing for low latency transmission.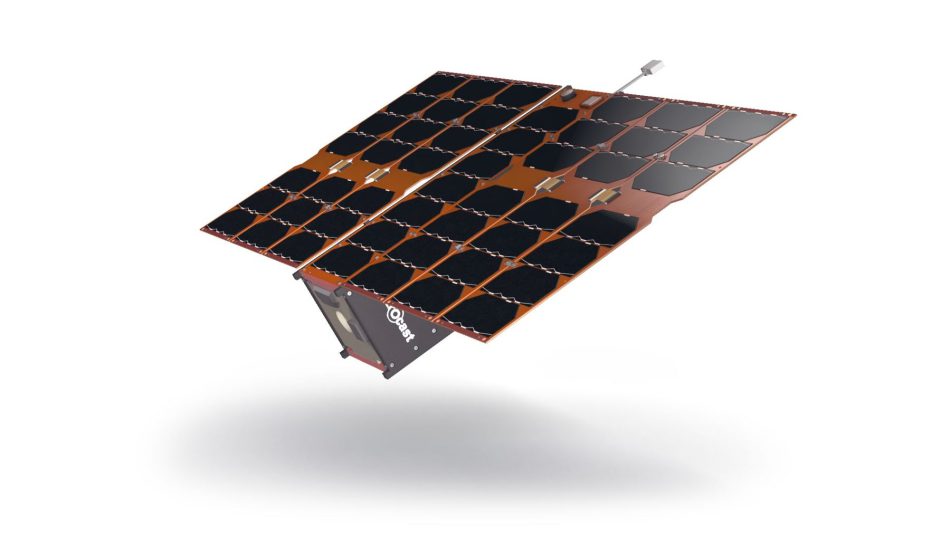 The LEO satellites have a controlled lifetime of up to 5 years, providing Astrocast customers the highest performance, greatest coverage and the highest reliability from anywhere in the world.

Company History
Astrocast was established in 2014 by Fabien Jordan (CEO), Federico Belloni (CTO), Bertil Chapuis, Julian Harris, Nicholas Petrig and Jean Michel Jordan as a spin-off of the École Polytechnique Fédérale de Lausanne (EPFL). The company launched its first five satellites on December 2nd 2018 aboard a Falcon 9 rocket operated by SpaceX. Another five nano-satellites were launched on January 24th 2021 with the Transporter one mission on a Falcon 9 rocket. On June 30th 2021 another five satellites were orbited with the Transporter-2 Rideshare mission on a Falcon 9 launcher operated by SpaceX. Astrocast plans to operate a full network of 100 CubeSats (10cm, 3.9inch) by 2024.
Astrocast is backed by venture capital firm Adit Ventures, Airbus SE's venture arm and the European Space Agency (ESA).
In partnership with Airbus, technology research institute CEA/Leti, the European Space Agency (ESA) and satellite operator Thuraya (owned by YahSat), Astrocast has developed Astronode S, a cutting-edge terminal featuring low profile L-band antenna, ultra-low power consumption and a small form factor. Astrocast enables companies like Marine Instruments and Wildlife Computers to expand their IoT strategies.
In 2019 Astrocast raised 9 million USD in a Series-A financing round for a constellation of 80 satellites by 2023 or 2024, up from a previously planned 64-strong network so it is able to cover customers around the equator adequately.
In August 2021 Astrocast floated its shares on the Euronext Growth market in Oslo, Norway to expand its constellation to 100 nano-satelliites in 2024. Prior to the listing on Euronext Growth Oslo, the company offered new shares to investors and raised CHF 45 million (48,8 million USD) in capital. Several leading investors acquired new shares in Astrocast.

ASTROCAST Satellite Constellation
| | | | | |
| --- | --- | --- | --- | --- |
| # satellites | Mission | Launch Date | Launcher | Launch Provider |
| 1 | SSO-A | Dec 2nd, 2018 | Falcon 9 | SpaceX USA |
| 1 | EMISAT | April 1st, 2019 | PSLV-C45 | ISRO India |
| 5 | Transporter-1 | Jan 24th, 2021 | Falcon 9 | SpaceX USA |
| 5 | Transporter-2 | June 30th, 2021 | Falcon 9 | SpaceX USA |
| 4 | PSLV-C54/EOS-06 | Nov 26th, 2022 | PSLV | ISRO India |
| 2 | Transporter–6 | Jan 3rd, 2023 | Falcon 9 | SpaceX USA |
All trademarks, logos and images mentioned and showed on this page are property of their respective owners.

Resources
www.astrocast.com
www.startup.ch
www.lti-cea.com
www.karmanproject.org
www.airbus.com
www.investiere.ch
www.wikipedia.org
www.crunchbase.com
www.spacenews.com edition June 23rd, 2021
www.s-ge.com edition September 7th, 2021
www.epfl-innovationpark.ch
www.bloomberg.com
www.itu.int
www.tracxn.com