Xicom Technology Outdoor TWTA, 400W Ku-band model XTD-400K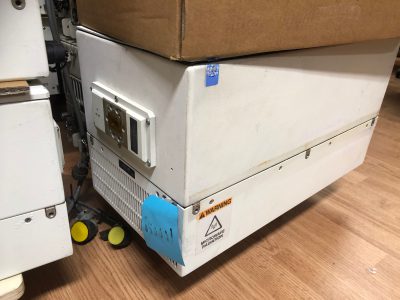 Xicom Outdoor TWTA XTD-400K Ku-band 400W
The Xicom Outdoor TWTA XTD-400K Ku-band 400W is a compact self contained antenna mountable power amplifier designed for low cost installation and long life. The XTD-400 design eliminates the need for an amplifier shelter as well as a long waveguide run between the amplifier and the antenna feed horn. RF-filters, cooling, and monitoring & control (M&C) systems are all self contained within the High Power Amplifier (HPA). These features provide high reliability, low maintenance costs, and low replacement costs.
The Xicom XTD-400 uses high efficiency dual- stage collector Traveling Wave Tubes (TWT). Some benefits of this type of TWT are:
Reduced prime power consumption
Lower internal operating temperatures
Reliability enhancement
These benefits are obtained for both the linear and saturated modes of operation. The XTD-400K incorporates power factor correction circuitry which minimizes line current distortion and reduces the required volt-amps. The combination of power factor correction and high efficiency TWT's reduces input Volt-Amps by 45% when compared to equivalent amplifiers. A high frequency resonant conversion power supply is used that accepts a wide range of prime power (100 to 260 VAC). The automatic features of the power supply include quick recovery from prime power outages and multiple helix fault resets (three fault cycles).
A complete serial M&C system is built into the unit. A remote external controller is available to operate the HPA from a user selected locations. Mounting brackets can be supplied to mount the HPA to most popular antennas.

Features
400Watt in Ku-Band Outdoor Amplifier
No Shelter Required
Short Waveguide Run
Power Factor Corrected
High Efficiency Dual-StageTWT's
Complete RS-232/422/485 Interface
NEW or USED TWTA's integrated with refurbished Earth Station Antenna
As integrator, Skybrokers can integrate, install and test the Xicom Technology TWTA's with our used and refurbished Earth Station antennas. Please feel free to inquire.
Our used Amplifiers are always tested by professional technicians in a professional lab with extensive test equipment. We provide a detailed testreport and a 90-day warranty is added.
Xicom Technology Outdoor TWTA, 400W Ku-band model XTD-400K
Xicom Technology Outdoor TWTA, 400W Ku-band model XTD-400K