Advantech hub mount SSPB 100W Ku-band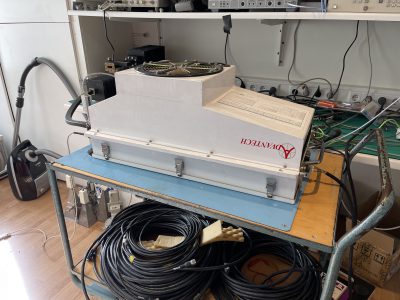 We're sorry but this product is sold
Perhaps you're interested in this alternative product:
Advantech SSPB 100W Ku-band (14.0 – 14.5Ghz) Hub mount amplifier
This Advantech outdoor Amplifier is tested and checked out for proper operation. We provide an extensive test report, a control cable and power cable with Mil connector.
Advantech's Hub Mount High Power Solid State Power amplifiers (SSPA's) with full microprocessor based M&C and output power ranging from 80W o 125W. Designed for outdoor operation in hard environmental conditions and are particularly suited to flyaway or mobile applications as SNG, where efficiency and size considerations are critical.

Features
Microprocessor based M&C
High Gain, linearity and efficiency
Gain control (local)
Remote Gain Control adjustment
Remote RF mute capability
Temperature Gain compensation
Automatic over-temperature shutdown
Automatic high reflected power shutdown
Output sample monitor ports
Form-C contacts for fault/alarm conditions
Infinite VSWR protection
Serial port interface (RS232 or RS422/485)
Redundancy operation without external controllers
CE marking
Advantech does not manufacture these units anymore. Skybrokers provides full support during 90-day warranty period. After this period we provide support as well against costs.
Advantech hub mount SSPB 100W Ku-band