Andrew 4.5m C-band Earth Station antenna 4-port Rx-only with Motorized Pedestal Mount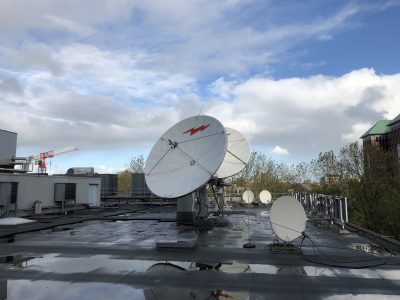 | | |
| --- | --- |
| Condition: | Used and refurbished |
| Model: | ES45MPJ |
| Manufacturer: | Andrew Corp. |
Andrew 4.5m C-band Earth Station antenna 4-port Rx-only with Motorized Pedestal Mount
AndrewEarth Station Antenna, 4.5m, C-band (Rx: 3.625-4.20GHz), Prime Focus Dual Reflector Gregorian, 2-Axis Motorized, 6-piece precision formed aluminum panels with heat diffusive white paint, galvanized steel back-structure.
System can be packed and stowed in a 20ft Sea-Container or prepared for road transportation.
System will be completely reconditioned and refinished to look and perform like new. We complete the antenna with new motors/reducers, reflector hardware kits checked-out and completed and a documentation package and foundation plans are provided. System is guaranteed to OEM specifications when properly installed by one of our professional installation teams.
This antenna was de-installed in 2018 as party of a de-installation project in Amsterdam, The Netherlands. Antenna is available from our antenna facility in Central Europe and will be completely refurbished prior to shipment.
Andrew 4.5m C-band Earth Station antenna 4-port Rx-only with Motorized Pedestal Mount
Andrew 4.5m C-band Earth Station antenna 4-port Rx-only with Motorized Pedestal Mount