Anritsu Spectrum Analyzer MS2687B (9kHz-30GHz)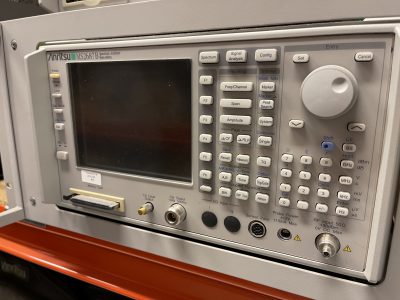 | | |
| --- | --- |
| Condition: | Used and tested |
| Model: | MS2687B |
| Manufacturer: | Anritsu |
Perhaps you're interested in this alternative product:
Anritsu Spectrum Analyzer MS2687B (9kHz-30GHz)
High-performance microwave spectrum analyzer covering 30GHz
The Anritsu Spectrum Analyzer MS2687B covers a frequency range up to 30 GHz and can measure up to 5th-order harmonics on 5GHz Wireless LAN's. Moreover, the MS2687B has a maximum RBW of 20MHz and is ideal for measuring the burst power of wideband signals used by Wireless LANs. When the MX268730A Measurement Software is installed, the modulation accuracy, of each sub-carrier of the OFDM signal can be measured at high speed and high accuracy.
Features
Frequency Range; 9 kHz to 30 GHz
Extend range to 18 – 110 GHz with external mixers, Resolution Bandwidth Up to 20 MHz
Optional narrow resolution bandwidth from 1 Hz
Optional Power Meter
Frequency Counter with 1 Hz resolution
Superior RF-performance specifications

Applications
R&D and Manufacturing of WLAN equipment
Installation and Maintenance of Base Stations
Installation and Maintenance of Microwave Backhauls
Manufacturing of Radio Components
The MS2687B has a high sweep rate of more than20 times/s. A slight change of the signal can thus be accurately captured and measured at high speed. The GPIB transfer speed of the measured data is as fast as 120 kB/s, making it approximately 10 times faster than our conventional model. Use of the optional Ethernet interface allows connection to a LAN for centralized management and high-speed measurement, and thus efficient construction of production lines.
This High-performance Microwave Spectrum Analyzer is covering 30GHz and is an easy-to-use analyzer including 19inch rack mount brackets. Tested before release and we provide 90-day warranty. Recently Skybrokers delivered a MS2687B Analyzer to a Teleport Operator in France!
Please refer to datasheet for specifications.
Anritsu Spectrum Analyzer MS2687B (9kHz-30GHz)
Anritsu Spectrum Analyzer MS2687B (9kHz-30GHz)