Comtech-MCT LEO/MEO Satellite tracking Antennas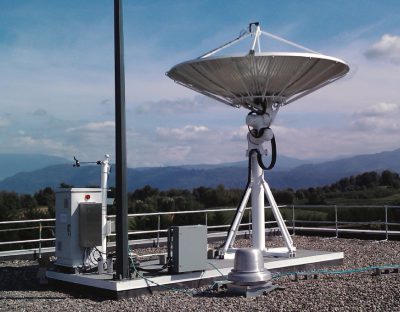 Comtech-MCT LEO/MEO Satellite tracking Antennas
Fixed and Deployable Systems and Radomes
Comtech Space & Component Technology provides a complete satellite and tracking solution for your ground stations in frequencies ranging from UHF, L-, S-, X-, C- and Ku-band to Ka-, Q- and V-band.
Comtech-MCT offers a range of X/Y tracking antennas from 30cm to 11m coupled with their installation expertise and worldwide support in extreme environments such as the Arctic, Middle-East and Tropics. Skybrokers provides the customer a complete satellite and tracking solution for your ground stations.

Features
30cm to 11m antenna size
X/Y-axis configuration (Series-A through Type 6 for increasingly larger dishes)
Transmit/Receive feed technologies through V-band
Designed for tracking LEO, MEO, HEO and GEO satellites
Applications include Earth Observation, Remote Sensing, Communications and TT&C functions
Lights-out operation, including ethernet (TCP/IP) and M&C software is provided with Linux-based M&C system, includes SNMP and XML support
Program and AutoTrack Performance
Effective program track capabilities that utilize ephemeris data in the form of Two-Line-Element (TLE) data and other formats
Autotrack Capabilites:
– Low loss mode coupler tracking system for high frequencies and larger aperture antennas that does not affect G/T performance
– Software assisted auto-track, the low velocity tracking dynamic of the X/Y allows the implementation of real time signal level peaking throughout the track by utilizing unique tracking algorithms to control the servo control system
Radome Options
The Comtech X/Y Antenna Systems do not require a radome for operation, but for extreme locations Comtech can provide a cost-effective radome solution. A radome offers many advantages like protection from extreme weather conditions, extension of component life and provides antenna position concealment.
Radome diameter sizes: 1.5m to 20m (larger on request) tuned for the frequency or frequencies of interest
Foam Core Sandwich Composition – three types of construction
'A' sandwich consisting of three layers
'C' sandwich consisting of five layers
'S' space frame design using a fiberglass framing with a reinforced PTFE -impregnated glass fiber (Teflon) fabric (ideal for wideband applications)
Wind Speed: Radomes capable of surviving in winds up to 200km/hr (300km/hr (depending on specific model)
Additional Features & Options 
Deployable, trailer, truck and skid mounts
High-performance shaped Cassegrain feed configurations
Multi-frequency feed systems
Highly-responsive installation and maintenance services
Full RF and data chain including:
-Frequency converters, spectrum analyzers, RF switching, demodulators/modems, uplink amplifiers
Mode coupler auto-track and software RSSI auto-track (ideal for X/Y low dynamic)
Integrated UHF Transmit and Receive capabilities
X/Y System Advantages
Cost Advantage: Simplified and elegant design, advanced manufacturing techniques, and use of commercial components makes the X/Y one of the most cost-effective antenna products available in the industry
High Performance:

System eliminates the "keyhole" at zenith or "cone of silence" associated with overhead passes experienced on other pedestal configurations
Less dynamic tracking motion of the X/Yantenna over an EL/AZ provides for more accurate pointing, which is especially important when tracking Ka-band
Low dynamic of movement greatly reduces system wear, thus extending the system life and reducing maintenance
No cable wrap issues;no need for rotary joints or slip rings
Precision gear assemblies eliminate drive-system backlash
Delivery: 14 to 26 weeks (ARO) for the 1st system, delivery schedules will vary based on system requirements, antenna size and factory loading at the time of the order. Some X/Y positioner stock is maintained on the shelf and ready for delivery, please inquire.
Carbon Fiber Reflectors: No need to heat the dish to avoid expansion and contraction as temperatures change; greater gain performance over an aluminum dish, especially at the higher Ka-band through V-band ranges. Heated reflectors for ice and snow removal are available.
Environmental Resilience: System designed for operation in coastal, arctic, and desert environments.
See more specs on datasheet.
Please do not hesitate to contact us for more information.
Comtech-MCT LEO/MEO Satellite tracking Antennas
Comtech-MCT LEO/MEO Satellite tracking Antennas