Novelsat
Novelsat is an innovative technology company headquartered in Israel and is dedicated to providing the next-generation modulation standard for satellite communications. The company supports DVB-S, DVB-S2 and DVB-S2X standards and also offers the superior spectral efficiency of its Novelsat NS4 high-end efficiency satellite transmission software package which is available in all Novelsat satellite modulators, demodulators and modems.
The company was established in 2007 and is headquartered in Ra' anana in Israel.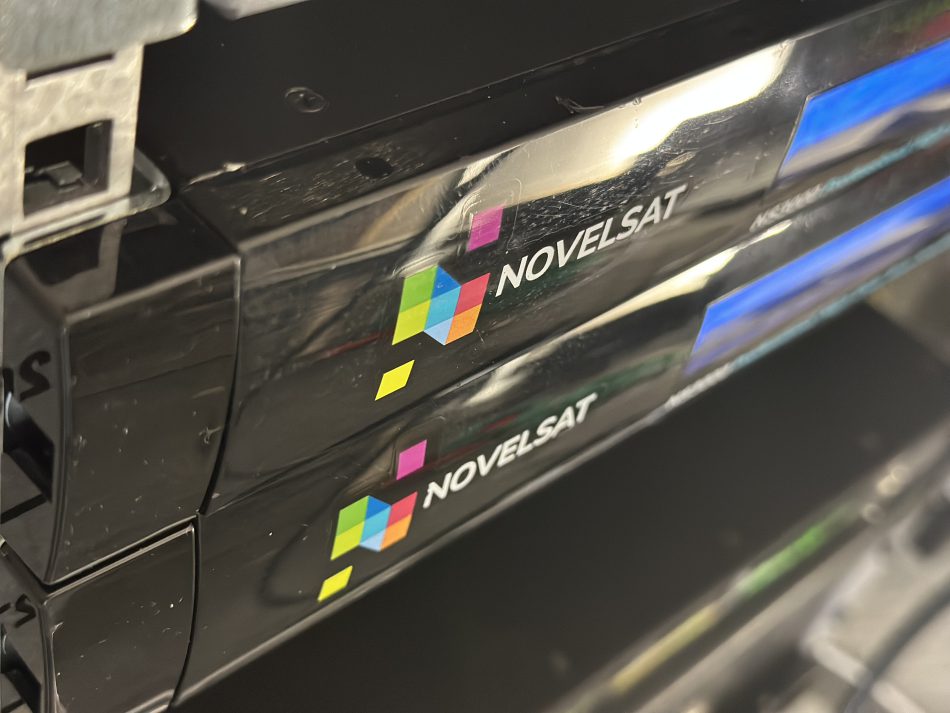 Company History
Novelsat was founded in 2007 by Itzik Wulkan and Nir Barkan in Israel. Wulkan has more than 30 years' experience in the telecom industry served as CEO, VP R&D, VP Sales & Marketing, and VP Corporate M&A at companies such AudioCodes, Comverse and Tadiran. Barkan holds a MBA in Strategy and Entrepreneurship and a B.SC in Electronics and Electricity from Tel-Aviv University.
In 2011, when DVB-S2 was only 8 years old, Novelsat introduced NS3 using 64 APSK (Amplitude Phase Shift Keying) with new constellation shaping algorithms producing roughly 20% more throughput than DVB-S2. The technology was implementable with a single chip swap out at a ground station and at the receiver. Novelsat got even more throughput improvement when a 72MHz transponder was used by multiplexing two signals.
On May 16th, 2016 Novelsat announced an agreement with the leading Japanese distributor Sanshin Electronics Co., Ltd.The company would boast a broad nationwide network with 13 branch offices in Japan. In addition, highly experienced full-time application engineers would support the expansion program of Novelsat products into the Japanese market.
In February 2023, the company unveiled a collaborative venture with Guident, a leading autonomous vehicle teleoperation company with HQ in Boca Raton FL USA, aimed at creating a groundbreaking 'always-on' universal remote monitoring and control system tailored for autonomous vehicles and devices. This pioneering solution integrates space communication with augmented intelligence technologies to ensure the utmost safety and security for autonomous vehicles and devices. This, in turn, empowers remote monitoring and operation from any location and at any given time.
In March, Tusass, Greenland's national telecommunications provider, opted for Novelsat's products and technology to establish a significant capacity network in Greenland. This network is designed to deliver high-speed broadband services to remote and underserved communities within the region. The backbone of this initiative is powered by Novelsat's cutting-edge Xnet technology, a dynamic SCPC solution with advanced resource allocation capabilities. Anchoring this network is the Xnet hub, strategically situated in Maspalomas, Gran Canaria, to provide exceptionally high-capacity connectivity to multiple key locations in Greenland, including Qaanaaq, Upernavik, Nuuk, Ittoqqortoormiit, and Tasiilaq.

Skybrokers has successfully executed multiple antenna installation projects in Greenland on behalf of Tusass. These antennas are presently aligned with the Hispasat's Amazonas Nexus satellite, providing internet connectivity, using Novelsat's technology, to numerous towns and settlements. For further details and captivating images from the antenna construction process, kindly follow the provided links;
Andrew 7.6m Earth Station Antenna installed at Tusass headquarters in Nuuk, the capital of Greenland,
Two existing ASC Signal 4.9m Earth Station Antenna converted from C- to Ku-band in remote towns of Ittoqqortoormiit and Tasiilaq at the East-coast of Greenland,

Also in March 2023, satellite operator Intelsat opted for Novelsat's cutting-edge satellite connectivity technology to bolster its high-performance networks. Intelsat's utilization of Novelsat's advanced satellite modems will facilitate high-speed trunking and backhaul connectivity for both wireless and wireline networks. This strategic adoption of Novelsat's high-speed satellite technology enables Intelsat to elevate network performance and capabilities, effectively catering to the escalating requirements of its customer base.
In June 2023 the company was awarded an order for advance broadband connectivity for a prominent government project in Australia. By leveraging high-performance satellite connectivity, operating in a star architecture, Novelsat will enable faster and more secure communication across multiple locations throughout the country.

All trademarks, logos and images mentioned and showed on this page are property of their respective owners.

Resources
www.novelsat.com
www.crunchbase.com
www.planetcomm.com
www.rethinkresearch.biz edition February 18th, 2016
www.worldteleport.org edition May 16th, 2016
www.news.satnews.com edition February 14th, 2023
www.news.satnews.com edition March 21st, 2023
www.satelliteevolution.com edition June 8th, 2023
www.globenewswire.com edition June 16th, 2023
www.guident.com
www.intelsat.com
www.teletimesinternational.com
www.craft.co
www.tracxn.com
www.satixfy.com