CPI 3.8m Dual Off-set Batwing Antenna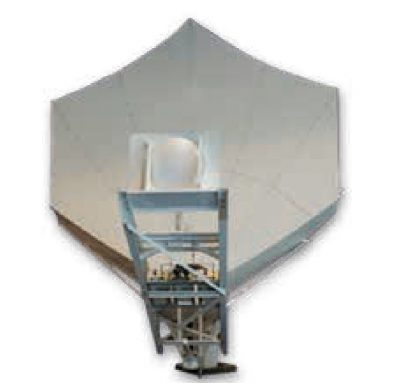 | | |
| --- | --- |
| Condition: | New OEM |
| Model: | 3.8m Batwing |
| Manufacturer: | CPI, Inc. |
CPI 3.8m Dual Off-set Batwing Antenna
The CPI Satcom & Antenna Technologies Inc. (CPI SAT), formerly GDSatcom Technologies, 3.8m Batwing Antenna delivers exceptional performance for transmit/receive and receive only applications in L- through Ka-band frequencies. This antenna offers a dual offset reflector design that incorporates preci- sion-formed panels, contoured radials and a machined hub assembly. The state-of-the-art design provides exceptional performance for low cross-polarization levels and excellent sidelobe patterns.
The rugged feed boom can support up to 300 lbs. (136 kg) of integration equipment. The reflector is supported by a galvanized steel fixed or motorizable pedestal that provides the required stiffness for pointing and tracking accuracy. The pedestals are designed for full orbital arc coverage and are readily adaptable to ground or rooftop installations using concrete foundations, load-frames or non-penetrating mounts.
The electrical performance is compliant with FCC 25.209 regulations and ITU-RS-580 sidelobe specifications. Type Approved configurations are available for Intelsat (F1, E2), Eutelsat (L, M), Asiasat, EuropeStar and Singapore Telecom (SingTel).

Features 
'Type-Approved' bolt-together, all-aluminum reflector with self-aligning, fully interchange able components
Designed for 1.5 to 31 GHz operation, meet ing FCC 25.209 regulations in Ku-band and beyond the main beam at C-band
Feed boom supports 300 lbs. (136 kg) of equipment
Galvanized steel EL over AZ pedestal with jackscrews or struts
Standard: Survives 125 mph (200 km/h) winds in any position; 130 mph (209 km/h) at preferential stow orientation Optional: HWA survives 150 mph (240 km/h) winds in stow orientation (true zenith)

Options
L, S, C, X, Ku, DBS and Ka-band feed configurations
C/Ku receive only feed systems
Specialized feed systems (e.g., extended, multi-band)
Antenna control system with tracking
Reflector and feed deicing systems
Integrated transmit cross-axis kits
Integrated LNA- or LNB-systems
HPA's, converters and M&C systems
Fixed or motorizable pedestals
Non-penetrating and load frame mounts
Packing for sea and air transport
Turnkey installation and testing
High wind antenna (HWA) option for 150 mph (240 kmh) wind survival
Low operating temperatures
High power configurations
Special upgrades may be available upon request (Please contact us for details)

Benefits
High antenna efficiency
Excellent rejection of noise and microwave interference

Applications  
Communications, Data transfer, Broadcast
Installation Services
Skybrokers offers optional installation services to install this antenna. Our professional Installation and alignment team can support you with an excellent installation. The antenna will meet OEM specifications and we test the antenna with you prior to handover. Please feel free to inquire more information.
TWTA's integrated with refurbished Earth Station Antenna
As integrator, Skybrokers can integrate, install and test optional CPI TWTA's with NEW or our USED and REFURBISHED Earth Station antennas of CPI/GDSatcom/VertexRSI, Andrew/ASC Signal and Viasat. Please feel free to inquire.

CPI 3.8m Dual Off-set Batwing Antenna