Miteq Upconverter If- to Ku-band (13.75-14.5GHz), U-9696-3L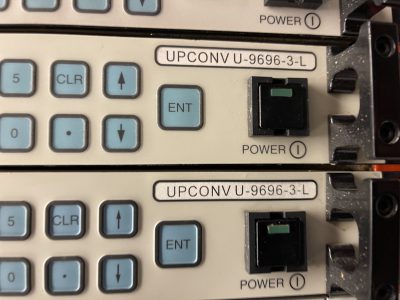 | | |
| --- | --- |
| Condition: | Used and tested |
| Model: | U-9696-3 |
| Manufacturer: | MITEQ |
Miteq Upconverter U-9696-3L If to Ku-band (13.75-14.5GHz)
The Miteq Upconverter U-9696-3L frequency converter is designed for advanced satellite communication systems and are available for a wide variety of frequency plans. Phase noise, amplitude flatness and spurious outputs have been optimized to provide the user with a transparent frequency conversion for all video and data applications.
A strong feature set of monitor and control functions supports powerful local and remote control. Among the features are control of frequency, attenuation and 64 memory locations for each converter where various setups can be stored and re- called. A continuously updated log of time-stamped records of activity is also provided.
These frequency converters use an internal synthesizer to provide frequency tuning. Level control is available via the front panel or the remote-control interface.

Features
Local or remote control
Output amplifier for increased dynamic range (upconverters)
Low intermodulation distortion
Low phase noise
32 programmable frequency and attenuation settings
Nonvolatile memory
30 dB level control
IF signal monitor output, -20 dBc
We have various units available in diffent configuration, Standard and Wide-band. Please ask us for more details. All units are tested before release and shipped EXW The Netherlands. We provide a 90-day warranty.
Skybrokers has provided various Miteq U-9696L Upco's to Teleport Operators in Cyprus and Lithuania.
Miteq Upconverter If- to Ku-band (13.75-14.5GHz), U-9696-3L
Miteq Upconverter If- to Ku-band (13.75-14.5GHz), U-9696-3L