Paradise Datacom L-band Satellite Modem Evolution-series PD25L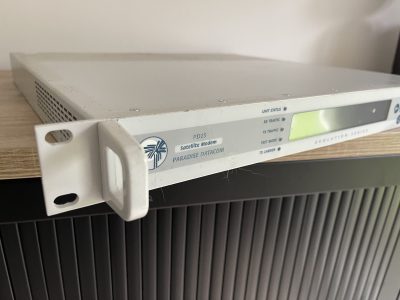 Perhaps you're interested in this alternative product:
The Paradise Datacom PD25L  Satellite Modem Evolution-series PD25L has been designed for costs-critical modem applications and discerning users who demand quality and reliability at an affordable price. This 25Mbps capable modem offers full compliance with IESS-308, -309, -310, -314, & -315, plus a range of data interfaces including Ethernet.
Data rate in Paradise Datacom PD25L Satellite Modem Evolution-series PD25L base modem: 4.8kbps-2,048kbps (options to 25Mbps), Field upgradeable feature set, L-band 950-1,950MHz in 100Hz steps, BPSK/QPSK/OQPSK as standard modulation (8PSK, Fastlink, 8QAM, 16QAM Fastlink 16APSK, Fastlink 32APSK and Fastlink 64QAM as option), Built-in 1:1 Red. Controller, 100-240VAC prime power, 1RU rack mountable, Web User Interface.

Easy Operation
The Modem firmware and software is easily upgraded through an Ethernet management port, plus an innovative new menu structure makes configuration a simple procedure. Advanced user interfaces support the display of text in different languages for universal appeal, and a unique Web User Interface offers full remote control and in-depth performance analysis tools using Internet Explorer without special Monitor & Control software.

Key Features 
MIL 188/165A compliant.
Field upgradeable feature set.
8kbps to 2,048kbps in the base modem; options to 25Mbps.
RS422, X.21, V.35, RS232 interfaces; HSSI, Serial LVDS, Eurocom D/1, Quad E1,
703. E1/E2/E3/T1/T2/ T3 (options) and Ethernet, IP Acceleration (optional)
BUC control via FSK (optional).
Ethernet Bridging, plus Brouting (option).
BPSK, QPSK, OQPSK, 8PSK (option) & 16QAM (option).
Multi-rate 2nd Generation Turbo (TPC), Viterbi, TCM & Reed-Solomon FEC options.
950 – 1,950MHz L-Band in 100Hz steps.
Closed Network, Closed Network + ESC, IBS/SMS (option) and IDR (option).
Drop and Insert to E1/T1 (option) with extended functions: RBS, CAS.
Built-in 1:1 Redundancy Controller.
Embedded web server accessed via standard web browser for management and
remote control.
DC power to the LNB (standard), DC power to the BUC (optional).
We have various units available on the shelf for quick release. We provide 90-day warranty and testing prior to shipping, EXW The Netherlands.
Paradise Datacom L-band Satellite Modem Evolution-series PD25L
Paradise Datacom L-band Satellite Modem Evolution-series PD25L