Paradise Datacom L-band Satellite IP Modem Evolution-series PD55L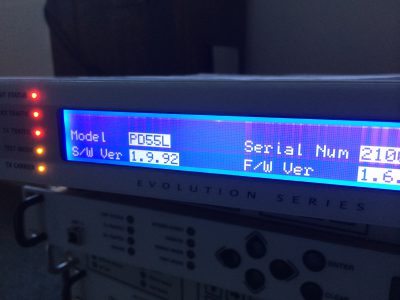 Paradise Datacom L-band Satellite IP Modem Evolution-series PD55L (USED)
The Paradise Datacom PD55L satellite modem has been designed for costs-critical modem applications and discerning users who demand quality and reliability at an affordable price. This 55Mbps capable modem offers full compliance with IESS-308, -309, -310, -314, & -315, plus a range of data interfaces including Ethernet.
Data rate in base modem: 4.8kbps-2,048kbps (options to 25Mbps), Field upgradeable feature set, L-band 950-1,950MHz in 100Hz steps, BPSK/QPSK/OQPSK as standard modulation (8PSK, Fastlink, 8QAM, 16QAM Fastlink 16APSK, Fastlink 32APSK and Fastlink 64QAM as option), Built-in 1:1 Red. Controller, 100-240VAC prime power, 1RU rack mountable, Web User Interface.
These modems have following configuration:
Hardware Options
I/f 1: P3056 EIA530
I/f 2: P3714 IP Traffic
I/f 3: NoBNCs
P3521 High Stab Ref
P3603
R3028 fan assembly
SFT30056
SFT30059
Software SAF Options
Data rate 10-16.896Mb:       DR2
Date rate 16.896-25Mb:       DR3
Date rate 25-45Mb:               DR4
Data rate 45-55Mb:               DR5
Turbo low, 10Mb max:         TPCL
8PSK:                                       8PSK
16QAM:                                   16QAM
High Rate Turbo:                  TPCH
BER Tester:                            PRBS
TCP Acclrtn-10Mb:               TCP
TCM:                                        TCM
TCP Acclrtn-25Mb:               TCP25
TCP Acclrtn-16Mb:               TCP16
TCP Acclrtn-55Mb:               TCP55
HTTP Acclrtn:                        WEB
Wide RF:                                 WRF
8APSK:                                    APSK
FL1  1Mbs:                               FL1
FL2  2.5Mbs:                           FL2
FL3  5Mbs:                              FL3
FL4  10Mbs:                            FL4
FL5  20Mbs:                            FL5
FL6  25Mbs:                            FL6
FL7  55Mbs:                            FL7
Base SAF Modem
Transmit:                               TX
Receive:                                  RX
D. rate 0 – 2,048Kb:            DR0
Viterbi:                                   VIT
Reed Solomon:                     IRS
Wideband IF:                        WIF
ESC:                                        ESC
Header Compression:         HCP
Data rate 2,048-5Mb:         D1L
Data rate 5-10Mb:                D1H
IP Traffic:                               IPT
We do have various used PD55L L-band modems in excellent condition and available for quick release ex works The Netherlands. Units are tested and come with a 90-day warranty.
Paradise Datacom L-band Satellite IP Modem Evolution-series PD55L
Paradise Datacom L-band Satellite IP Modem Evolution-series PD55L