Peak Dual Up/Dn converter IF- to Ku-band (13.75-14.5GHz), P7000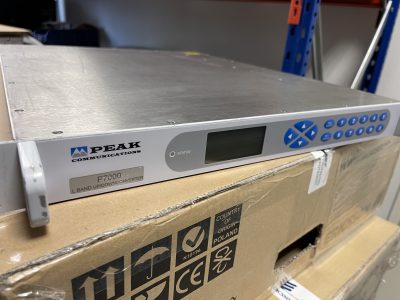 Perhaps you're interested in this alternative product:
Peak P7000 Dual converter Up/Dn IF- to Ku-band (13.75-14.5GHz)
The Peak P7000 Dual Converter Up/Dn IF- to Ku-band is a next generation fully synthesized combined L-Band Up and Down-converter which provides a low-cost solution for systems requiring an IF interface at 70 MHz ± 18MHz or 140MHz ± 36MHz. The unit incorporates a graphics display module, membrane keyboard and features a clear and intuitive control and configuration menu fully utilizing the unique graphics display. The Peak P7000 has an integral redundancy controller for 1:1 & 1:2 operation, and a CANBUS® interface for 1:N systems.
The Peak P7000–series of converters are designed to meet the phase noise, spurious, level and frequency stability requirements of Intelsat IBS/ Eutelsat SMS specifications and is compliant with IESS 308/309. The product is most suitable for both high and low-rate data and both digital and analogue TV signals.

Features
Compliant with IESS 308/IESS 309 requirements
Used for 8PSK and 16QAM modulations in excess of 50Mbits/sec
1:1 & 1:2 inbuilt redundancy control (see T1000/R1000 and T2000/R2000 redundancy unit data sheets)
CANBUS® for 1:N systems (see RCU1000 series redundancy unit data sheet)
Aux DC and 10MHz reference outputs for Block Up and Downconverters
Software selectable spectrum inversion on Downconverter
External alarm monitoring for Block Converters
Software trimming of internal primary frequency reference
L-Band monitoring points
This is a used device that will be tested prior to shipping EXW The Netherlands. Please ask us for more details.
Peak Dual Up/Dn converter IF- to Ku-band (13.75-14.5GHz), P7000
Peak Dual Up/Dn converter IF- to Ku-band (13.75-14.5GHz), P7000