AAC Clyde Space
AAC Clyde Space is a new space company and a global leader in Nano-satellite end-to-end solutions, subsystems, platforms, services and components, including supply to third parties. AAB Clyde Space is part of AAC Clyde Space AB Group, headquartered in Sweden.
The company specializes in small, purpose-built satellites, as well as sub-systems and components. Customers include the European Space Agency (ESA), National Aeronautics and Space Administration (NASA), Orbcomm, Kepler Communications, NSLComm, KP Labs and Orbital Micro Systems and commercial satellite operators such as Eutelsat from France.
AAC Clyde Space has its main operations in Sweden and Scotland for advanced satellite components manufacturing, The Netherlands, the USA, and a start-up in South Africa.
AAC Clyde Space was established in 2019, formed from the mother company ÅAC Microtec, a spin-off from Uppsala University's Ångström Laboratory, that was based in Uppsala Sweden and the acquired company Clyde Space, Ltd, based in Glasgow UK. Both companies were founded in 2005 and had and extensive mission heritage.
Company History
Originally called Ångström Aerospace Corporation (ÅAC), the company was founded in 2005 as a spin-off from the Ångström Laboratory of Uppsala University in Sweden, which very early pioneered research into micro-electro-mechanical systems (MEMS). ÅAC started as a research group at the Uppsala University, which became the Ångstrõm Space Technology Center (ÅSTC) that was dedicated to developing Nano-satellites. ESA and the Swedish National Space Board (SNSB) commercialized the knowledge and ÅAC was born. In 2008 the company was rernamed ÅAC Microtech.
AAC Clyde Space was created in early 2018 when ÅAC Microtech acquired Scottish cubesat manufacturer Clyde Space, based in Glasgow for 35.3 million USD. The acquisition created a company with more than 100 employees and a combined 7 million USD in revenue in the first three quarters of 2017. The firms expect a significant growth in the next few years given growing demand for cubesats and other small satellites, particularly though proposed communications and imaging constellations.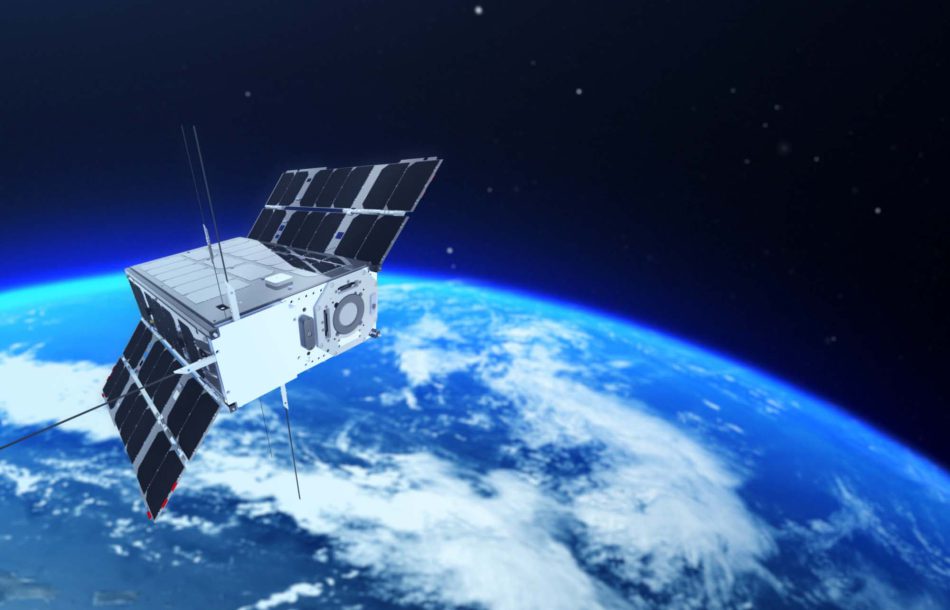 In February 2020 France based Exotrail, a company dedicated to providing innovative on-orbit transportation solutions for the small satellite market, signed a contract with AAC Clyde Space, to provide cutting-edge propulsion solutions to support satellite operator Eutelsat, for its ELO 3 and ELO 4 spacecrafts, part of Eutelsat's IoT constellation. Exotrail will provide propulsion systems for the two 6U CubeSats which will be manufactured and delivered to orbit by AAC Clyde Space. Both satellites will be launched late 2022.
The ELO 1 and ELO 2 payloads are being constructed by Loft Orbital and will be hosted on a satellite platform combining several missions. In 2018 Eutelsat ordered a test Nano-satellite, Eutelsat ELO alpha (Tyvak-182A), from Tyvak International. ELO's first test satellite was launched on April 28th 2021 on a Vega rocket operated by Arianespace.
In October 2020 AAC Clyde Space acquired SpaceQuest, a satellite technology developer based in Fairfax, Virginia, USA in a deal valued of 8.4 million USD. The acquisition will expand the company's presence in the dynamic U.S. space market.
SpaceQuest, founded in 1994, designs, manufactures and tests small satellites and satellite components. SpaceQuest customers include LeoStella, Orbcomm, ICEYE, Northrop Grumman, the Canadian Space Agency, NASA, and the U.S. Air Force and Navy.

All trademarks, logos and images mentioned and showed on this page are property of their respective owners.

Resources
www.aac-clyde.space
www.edisongroup.com
www.news.cision.com edition 17th March 2014
www.reuters.com
Book: The Politics of Space: A Survey by Eligar Sadeh
www.spacenews.com edition 23rd December 2017
www.parabolicarc.com edition 24th February 2020
www.spacenews.com edition 16th October 2020
www.tracxn.com
Satellites manufactured by AAC Clyde Space