Kepler LEO satellite constellation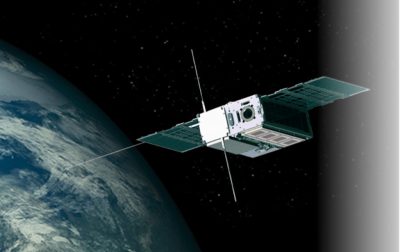 The Kepler LEO satellite constellation is built and operated by Kepler Communications, a private satellite telecommunications company, to provide in-space connectivity. The company develops next-generation satellite communications technologies and delivers global satellite data backhaul services for wideband and IoT applications. The company's stated mission is to deliver affordable network connectivity across the globe via a growing network of small satellites.
Kepler's infrastructure is aimed to connect launch vehicles, space stations, habitats, and other satellites. Kepler primarily serves the maritime, natural resources, research and exploration, defense, and shipping and logistics industries.
Kepler, based in Toronto, Ontario in Canada, was established in 2015. The company has successfully launched two 3U CubeSat technology demonstration satellites, the KIPP (Kepler-1), launched in January 2018 and the CASE (Kepler-2), launched in November 2018.
Both satellites are in Sun-Synchronous polar orbits. The Company's goal is to grow their constellation up to 140 spacecrafts, all located in Low Earth Orbit (LEO). Kepler's third satellite, TARS (Kepler-3), was launched in September 2020.
The names KIPP, CASE, and TARS are taken from the fictitious US Marine Corps robots of the same name in the 2014 film "Interstellar.
Kepler's satellites have been built by ÅAC Clyde Space, a company based in Glasgow, Scotland that specializes in CubeSat and SmallSat production. The company plans to construct its own satellites.

Kepler Satellites
| | | | | |
| --- | --- | --- | --- | --- |
| Satellite | Mission | Launch Date | Launcher | Launch Provider |
| Kepler-1 (KIPP) |   | Jan 19th, 2018 | Long March 11 | CGWIC China |
| Kepler-2 (CASE)  | HysIS  | Nov 28th, 2018 | PSLV  | ISRO India |
| Kepler-3 (TARS)  | SSMS | Sept 3rd, 2020  | Vega | Arianespace FG |
| Kepler-4 (Antilles)  |   | Sept 28th, 2020 | Soyuz 2  | GK Launch KZ |
| Kepler-5 (Amidala) |   | Sept 28th, 2020 | Soyuz 2  | GK Launch KZ |
| Kepler-6 (Rocinante) |   | Mar 22nd, 2021 | Soyuz 2  | GK Launch KZ |
| Kepler-7 (C3PO) |   | Mar 22nd, 2021 | Soyuz 2  | GK Launch KZ |
| Kepler-8 (Amarok) | Transporter-1 | Jan 24th, 2021 | Falcon 9 |  SpaceX USA |
| Kepler-9 (Artemis) | Transporter-1 | Jan 24th, 2021 | Falcon 9 |  SpaceX USA |
| Kepler-10 (Baby Yoda) | Transporter-1 | Jan 24th, 2021 | Falcon 9 |  SpaceX USA |
| Kepler-11 (Daneel)  | Transporter-1 | Jan 24th, 2021 | Falcon 9 |  SpaceX USA |
| Kepler-12 (Boba) | Transporter-1 | Jan 24th, 2021 | Falcon 9 |  SpaceX USA |
| Kepler-13 (Lucky) | Transporter-1 | Jan 24th, 2021 | Falcon 9 |  SpaceX USA |
| Kepler-14 (Stella)  | Transporter-1 | Jan 24th, 2021 | Falcon 9 |  SpaceX USA |
| Kepler-15 (Sudormrf) | Transporter-1 | Jan 24th, 2021 | Falcon 9 |  SpaceX USA |
| Kepler-16 | Transporter-3 | Jan 13th, 2022 | Falcon 9 |  SpaceX USA |
| Kepler-17 | Transporter-3 | Jan 13th, 2022 | Falcon 9 |  SpaceX USA |
| Kepler-18 | Transporter-3 | Jan 13th, 2022 | Falcon 9 |  SpaceX USA |
Kepler LEO satellite constellation