Radeus Labs, Inc. 8200 Antenna Controller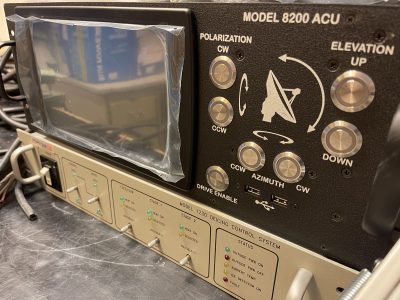 Perhaps you're interested in this alternative product:
Radeus 8200 Antenna Controller
The Radeus 8200 Antenna Controller meets the requirements of retrofits and new installations. As a retrofit option, the ACU is compatible with industry standard drive-cabinet interfaces and legacy position-feedback devices such as absolute rotary optical encoders.

Features
Touchscreen controls for all operations
Efficient, intuitive graphical user interface
Hardware jog buttons with LED indicators
Data and parameters secured in nonvolatile storage
Innovative setup wizard eases installation
Secure TeamViewer integration for remote and shared ACU operation
Field-proven in critical applications.
Tracking Mode

 

Description

Step Track
Advanced algorithm for periodic or signal-level-triggered scans to peak the signal level
Predictive Track
Tracks targets based on an orbital model developed from prior Step Track data points
NORAD TLE
Automated tracking based on NORAD two-line element sets
Intelsat IESS-412
Tracking derived from Intelsat 11-element parameter sets
TLE with Steptrack
Track using TLE as a base model but add periodic Step Tracks to correct for offsets over time
IESS-412 Step
Tracking with Intelsat model, with added Step Track to correct for offsets
Manual Jog
Dedicated front-panel antenna jog controls
Move to Longitude
Points the antenna to AZ and EL angles determined by the longitudinal orbital slot
Move to Angles
Points the antenna to user-supplied AZ, EL and POL angles

Applications
Suitable for antenna retrofits to replace legacy control systems, such as the GDSatcom and VertexRSI 7200 Antenna Control Unit.
Skybrokers can retrofit your existing ACU wit the Radeus 8200 Antenna Controller. Alternatively we can support you with Radeus 8200 Antenna Control Systems to be installed with used and refurbished Earth Station Antennas. Please contact us for more information.
Radeus Labs, Inc. 8200 Antenna Controller
Radeus Labs, Inc. 8200 Antenna Controller