Size-11 brushless resolver sensors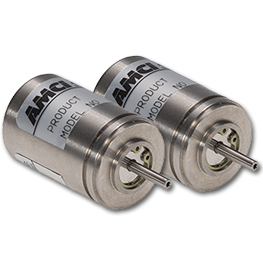 Skybrokers supplies quality size-11 resolvers with related accessories with each tracking package.We are using high-quality parts from AMCI that offers over 50 different types of resolvers, manufactured in popular industry standard sizes at competitive prices.
AMCI's resolver product line is offered in aluminum or stainless-steel construction, and boasts up to an IP67 rating.  Solid shaft and hub shaft versions are available, and both types incorporate an oversized double row bearing that supports shaft loads up to 100lbs. radial / 5lbs. axial.
We provide a complete line of resolver interface products, cables, and connectors, providing customers with a complete system solution.  AMCI resolver products are designed for long lasting, reliable performance.
Advanced Micro Controls Inc (AMCI), founded in 1985, is a leading U.S. based manufacturer with a global presence. AMCI's industrial controls improve the performance and profitability of today's factory and automation systems. AMCI specializes in the design, manufacturing, and sales of eight different product families. Long standing relationships with the biggest names in industrial automation enable it to deliver innovative, competitive products that are designed for years of reliable performance.
Size-11 brushless resolver sensors