SSC Beacon Tracking Receiver 3430L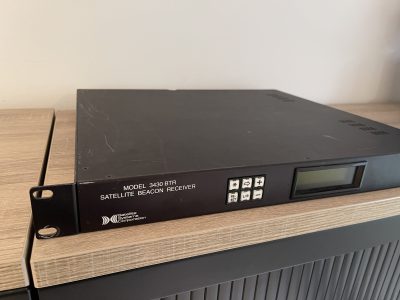 SSC Beacon Tracking Receiver 3430L
The SSC Beacon Tracking Receiver 3430L, -LD, -LF, and -LW are fully frequency agile satellite receivers designed to provide a linear DC reference voltage proportional to the received signal level of a satellite beacon or narrow-band SCPC carrier.
Frequency selection on 10kHz steps may be accomplished from the front panel or remote control. Pre-detection noise bandwidth of 50kHz facilitates accurate tracking at very low C/N levels.
The output of the Beacon Receiver is a DC voltage proportional to the input signal level to facilitate both tracking control and automatic power control. A Loss of Carrier indicator is provided in the event the tracking signal is lost. Form "C" relay contacts provide external Loss of Carrier Alarm. A front panel VFD displays operating frequency, relative signal level, carrier lock or alarm and input level.

Specifications
Input Frequency:
3430-L                       950-1,800MHz
3430-LD                    930-1,800MHz
3430-LF                     930-2,050MHz
3430-LW                    950-2,050MHz
Input Level                                        -30 to -90dBm typical
Tracking Slope                                  0.5V/dB
Tracking Linearity                            0.25dB
Frequency Selection                         10kHz steps
Min. input level for Lock                 -110dBm
Input Connector                                Type "F" Female,75ohm
Threshold                                            4dB C/N for acquisition, < 1 dB C/N for carrier lock
Tracking Response                            0 to +10VDC over 20dB input range
Alarms                                                  Form-C relay contacts
AFC                                                       ±25kHz
Noise Bandwidth                               50kHz

Mechanical:
Output Connector                            Modular socket & plug
Dimensions                                       1RU, 19″x 16″x 1.75″

Power:
Prime Input Power               90-260VAC, 47-63Hz, auto-sensing, 45W max
LNB Power                            +24 Volts @ 1 Amp available on center conductor, Selectable In/Out
The SSC 3430L BTR's are integrated into our Earth Station Antenna systems that we install. We have various BTR's available for quick release. We are shipping EXW The Netherlands and are testing prior to expediting. A 90-day warranty is provided.
SSC Beacon Tracking Receiver 3430L
SSC Beacon Tracking Receiver 3430L