AMC-14 (GE-14) at 35° East (lost)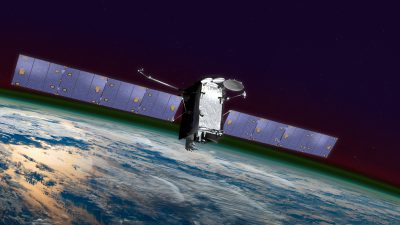 | | |
| --- | --- |
| Position: | 35° East (lost) |
| Manufacturer: | Lockheed Martin |
| Operator: | SES |
| Launch operator: | ILS |
| Launch vehicle: | Proton M/Breeze |
| Launch date: | 03/14/2008 |
| Expected lifetime: | 15 Years |
AMC-14 was a BSS satellite also built by Lockheed Martin with 32 (24MHz) Ku-band transponders each supported by a 150W TWTA; the spacecraft features the highest levels of redundancy on core components such as amplifiers, receivers, commanding beam and computer control systems. The satellite was to provide Direct to Home services in the United States from a slot to be determined. AMC-14 was to be the first BSS satellite operated in SES Americom's domestic fleet.
Satellite operator EchoStar, which had a contract to lease the whole capacity of AMC-14, asked that the satellite's payload be modified to make it more flexible, and notably that it be capable of operating at least temporarily from Mexico's 77° West longitude orbital slot. Due to the modifications, the satellite was not be launched before 2008.
In 2001 General Electric's GE Americom Communications was acquired by SES from Luxembourg, making SES the world's biggest satellite service provider. After the acquisition GE Americom was renamed SES Americom and later SES World Skies, and resulted also in renaming the satellite assets, GE-14 became AMC-14. The satellite was completely leased to satellite operator EchoStar, for it's DISH Network direct-to-home service.
GE-14 (AMC-14) was launched on March 14th, 2008, on a Proton M booster rocket operated by launch operator ILS from the Baikonur Cosmodrome launch site in Kazachstan. Due to a launch vehicle failure, the satellite was left stranded in a too low transfer orbit. After evaluations, if the satellite could be maneuvered to GEO on its own, it was decided, that there was no viable way to put AMC 14 into geostationary orbit. SES Americom declared the satellite a complete loss. The satellite was then sold to the US Department of Defense and began maneuvering itself to a higher orbit. In late January 2009 it has finally reached geosynchronous orbit using its on-board thrusters. It is currently located at around 35° East, with an inclination of more than 13°.
AMC-14 (GE-14) at 35° East (lost)