Swarm SpaceBEE LEO satellite constellation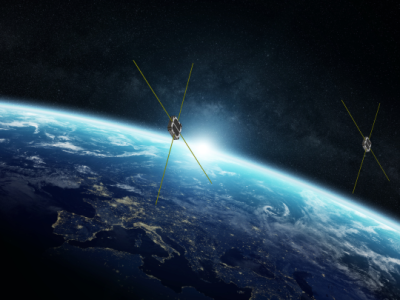 Swarm SpaceBEE LEO satellite constellation provides satellite connectivity solutions with a low-cost satellite network. Swarm has manufactured and launched Pico-satellites that are used for multiple industries including maritime shipping, agriculture, energy and ground transportation industry.

Swarm was a start-up privately held company when it was acquired by SpaceX in 2021. The company is building a LEO satellite constellation for communications with Internet of Things (IOT) devices using a Store and forward design, a technique in which information is sent to an intermediate station where it is kept and sent at a later time.

Swarm SpaceBEE LEO satellite constellation is manufactured completely in-house at the facility in Mountain View, USA.

On January 12th 2018 Swarm launched its first four Pico-satellites, SpaceBEE 1 to -4 on a PSLV rocket operated by ISRO from India. By December 2020, the company had orbited 9 test satellites and 36 of the planned 150 LEO satellites, similar to SpaceX' Starlink, to provide communication with IoT devices. The commercial services went live in August 2021 using 72 satellites providing global low-costs data to customers.
| | | | | |
| --- | --- | --- | --- | --- |
| Satellite | Mission | Launch Date | Launcher | Launch Operator |
| SpaceBEE 1-4 | CartoSat-2 | Jan 12th, 2018 | PSLV-XL | ISRO India |
| SpaceBEE 5-7  | SSO-A SmallSat | Dec 3rd, 2018 | Falcon 9 | SpaceX |
| SpaceBEE 8-9 | Make-it-Rain | Jun 29th 2019 | Electron KS | RocketLab NZ |
| SpaceBEE 10-21 | VV16 | Sep 3rd, 2020  | Vega | Arianespace FG |
| SpaceBEE 22-39  | Return-to-Sender | Nov 20th, 2020 | Electron | RocketLab NZ |
| SpaceBEE NZ-1 to -6 | Return-to-Sender | Nov 20th, 2020 | Electron | RocketLab NZ |
| SpaceBEE 40-75  | Transporter-1 | Jan 24th, 2021 | Falcon 9 | SpaceX USA |
| SpaceBEE 76-87 | PSLV-C51/Amazonia-1 |  Feb 28th, 2021 | PSLV-DL | ISRO India |
| SpaceBEE 88-111 | Transporter-2 | Jun 30th, 2021 | Falcon 9 | SpaceX USA |
| SpaceBEE NZ-7 to -10  | Transporter-2 | Jun 30th, 2021 | Falcon 9 | SpaceX USA |
| SpaceBEE 112-127 | Spaceflight-1 | Mar 15th, 2022 | Rocket 3.3 | Astra Space USA |
| SpaceBEE 128-139 | Transporter-4 | Apr 1st, 2022 | Falcon 9 | SpaceX USA |
| SpaceBEE 140-155 | There-And-Back-Again | May 2nd, 2022 | Electron KS | RocketLab NZ |
| SpaceBEE 156-167 | Transporter-6 | Jan 3rd, 2023 | Falcon 9 | SpaceX USA |
Swarm SpaceBEE LEO satellite constellation