Agilent Spectrum Analyzer E4402B (9kHz-3.0GHz)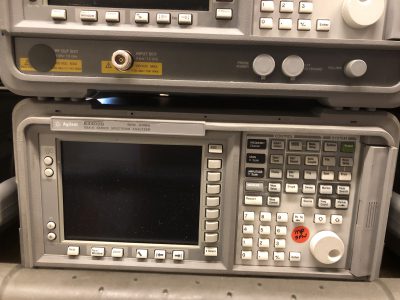 Agilent Spectrum Analyzer E4402B (9kHz-3.0GHz)
The Agilent Spectrum Analyzer E4402B (9kHz-3Ghz)) is an easy-to-use offering a wide range of performance and optional capability to meet your measurements. We have various units available with extended options. Please feel free to inquire for more information.
If you are looking for a general purpose spectrum analyzer, you will appreciate the flexibility of the Agilent ESA-E Series spectrum analyzer, which can be used for a wide range of applications from aerospace and defense to the manufacturing line. With express analyzer configurations (STD/STG/COM), customers will benefit from faster delivery and its price advantage.
Performance

4 dB overall amplitude accuracy
+16 dBm TOI
-166 dBm DANL, with internal preamp
1 Hz narrow resolution bandwidth (optional)
Measurement applications 
Phase Noise, Noise Figure, GSM/EDGE, cdmaOne and more
PowerSuite one-button power measurements included as standard
Features 
10 MHz analysis bandwidth
Segmented sweep for up to 32 discontinuous spans in one sweep
Rugged and portable for lab grade performance in the field
5 minutes warm-up to guaranteed measurement accuracy
This E4402B (9kHz-3Ghz)) is tested and comes with 90-day warranty. Skybrokers shipped various units to Teleport and Broadcasting clients in Europe (The Netherlands) and the Middle-East.
Agilent Spectrum Analyzer E4402B (9kHz-3.0GHz)