Andrew 4.5m C-band Earth Station antenna 4-port Rx-only with Motorized Pedestal Mount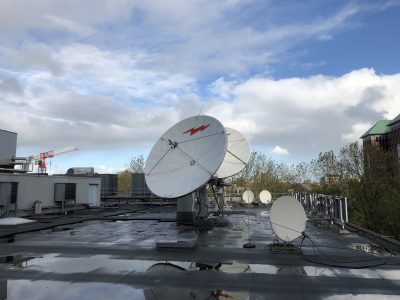 | | |
| --- | --- |
| Condition: | Used and refurbished |
| Model: | ES45MPJ |
| Manufacturer: | Andrew Corp. |
Andrew 4.5m C-band Earth Station antenna 4-port Rx-only with Motorized Pedestal Mount
The Andrew Earth Station Antenna, 4.5m, C-band (Rx: 3.625-4.20GHz), is a Prime Focus Dual Reflector Gregorian antenna that includes a 2-Axis Motorized Pedestal Mount. The reflector consists of 6-piece precision formed aluminum panels with heat diffusive white paint ad the back-structure is made out of galvanized steel. The antenna feature exceptionally easy and accurate assembly. When using the optional hoisting kit, no crane is necessary for installation. Additionally, the main reflector requires no special field alignment.
Andrew Earth Station Antennas provide maximum durability with minimal maintenance. The hot-dipped galvanized steel ground mount assembly ensures extended product life. The galvanized and stainless-steel hardware maximize corrosion resistance.
Features
High Gain, Excellent Pattern Characteristics
Main Reflector, No special Field Alignment
System can be packed and stowed in a 20ft Sea-Container or prepared for road transportation. The antenna system will be completely reconditioned and refinished to look and perform like new. We complete the antenna with new motors/reducers, reflector hardware kits checked-out and completed and a documentation package and foundation plans are provided. System is guaranteed to OEM specifications when properly installed by one of our professional installation teams.
This antenna was de-installed in 2018 as part of a de-installation project in Amsterdam, The Netherlands. The antenna is available from our antenna facility in Central Europe and will be completely refurbished prior to shipment.
Andrew 4.5m C-band Earth Station antenna 4-port Rx-only with Motorized Pedestal Mount
Andrew 4.5m C-band Earth Station antenna 4-port Rx-only with Motorized Pedestal Mount