Andrew APC100 Programmable Antenna Controller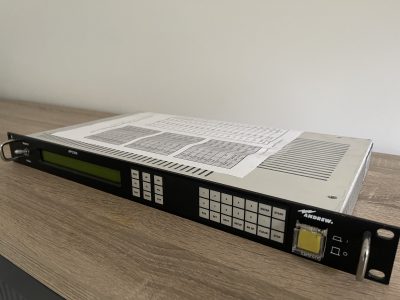 | | |
| --- | --- |
| Condition: | Used and tested |
| Model: | APC100 |
| Manufacturer: | Andrew Corp. |
Andrew APC100 Antenna Controller
The Andrew APC100 Antenna Controller is a 40-position, programmable antenna controller used to remotely position the earth station antenna from one satellite location to another. The APC100 is a cost- and space- effective controller that enables antenna positioning to selected coordinates within .01° accuracy. Antenna positioning may be done manually or from previously entered coordinates.
The Andrew APC100 Programmable Antenna Controller stores and retains 40 satellite names and positions in non-volatile memory and provides selected individual positioning of azimuth, elevation and polarization axes.
The APC100 occupies only one equipment rack unit and is equipped with selectable RS232 or RS422 ports.

Key Features
Remote Antenna Control
Manual Bi-directional Jogging of All Axes
Remote Computer Interface
Programmable Memory
Low Profile
Precision Positioning
Additional Features
Comprehensive Display. All selected satellite names and locations are displayed.
Automatic Antenna Positioning. Automatically positions antenna to pre-selected satellite coordinates.
Universal Power Supply. Auto-sense/select power supply enables worldwide operation.
Programmable Software Limits. Restricts antenna movement to designated range of travel.
Immediate Stop Key. Allows immediate access to terminate antenna movement.
Eighty Character Display. Backlit display provides optimum viewing of selected system information.
Motion Indicator. Alerts operator while antenna is in motion.
Worldwide Operation. Operational in both the northern and southern hemispheres.
This is an used and tested device. We provide 90-day warranty.
Andrew APC100 Programmable Antenna Controller
Andrew APC100 Programmable Antenna Controller