ASC Signal Antenna Tracking Controller NGC-IDU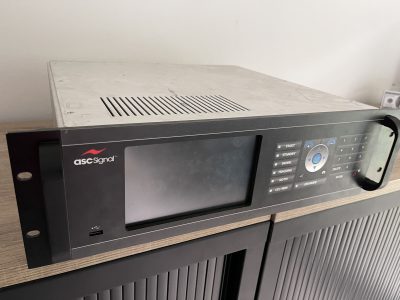 | | |
| --- | --- |
| Condition: | Used and tested |
| Model: | NGC-IDU |
| Manufacturer: | ASC Signal |
We're sorry but this product is sold
Perhaps you're interested in this alternative product:
ASC Signal Antenna Tracking Controller NGC-IDU
The ASC Signal Antenna Tracking Controller NGC-IDU is an advanced level antenna control system intended for applications with demanding tracking requirements, complex geometries, and dynamic conditions.
The Antenna Controller offers precise, user-friendly control over the basic motorization kits for ASC Signal Earth Station Antennas with sizes 2.4 meters and up.
The NGC-IDU features a SmarTrack® predictive tracking mode that utilizes a patented Three-Point Peak Algorithm that saves wear on the antenna motors and jacks.
The NGC-IDU provides convenient features such as straightforward color graphics, LCD touch screen interface, and a number of powerful remote control software protocol options, the ASC Signal Antenna Tracking Controller NGC-IDU is an ideal solution for medium- to large- sized Earth Stations requiring complex pointing and tracking functions.
Design Features 
Graphical User Interface – Common shared interface design between controller, handheld, remote software package. Enables ease of use, reduced training, and advanced graphical operations & diagnostics.
Open, Standards Based Platform – Non-proprietary hardware and software design based on proven and reliable technology. User customizable open source license User Interface.
Connectivity & Control – Full complement of hardware interfaces for legacy and next generation technologies providing flexible accessibility for system networking, monitoring, control and maintenance.
Flexible Modular Upgrade Architecture – Designed for field upgradable drop-in flexibility of hardware and software enhancements for expanded functionality.
Fiber Optic Interfacility Link – For secure and reliable communications, and protection against lightning, interference and transient voltage.
NGC System Description
The NGC system is physically divided into an Indoor Unit (NGC-IDU) and an Outdoor Unit (NGC-ODU), connected by a dedicated multimode optical fiber link.
The functional allocation between NGC-IDU and NGU-ODU follows one basic principle: the indoor unit generates all pointing commands and the outdoor unit executes the move and verifies they were completed.
All tracking functions are isolated to the NGC-IDU, which as mentioned is indoors, where the beacon receiver or other signal measurement device will be located.
All motion control functions are isolated to the NGC-ODU, which is located on positioner or pedestal, allowing termination of all local control cables after short runs and minimizing interconnection between indoor and outdoor to AC power, transmit and receive signals, and a single control fiber pair.
No configuration of the dedicated link between NGC-IDU and NGC-ODU is required, this avoids the need for the installer to understand TCP/IP networking configuration.
The ASC Signal NGC-IDU is a modular, scalable, adaptable advanced-level antenna pointing and tracking controller intended for motorized satellite Earth Station Antennas used with geosynchronous communications satellites.
The NGC-IDU is a 3RU 19-inch rackmount chassis that is mounted inside the equipment shelter or building. It provides the user interface and the interface to the tracking receivers. All NGC system variants have the same NGC-IDU package. The system is intended for new installations, and as a replacement for legacy control systems such as the ASC Signal, formerly Andrew APC100, APC400, and ACS3000 systems.
Features
The NGC provides the following basic and optional features:
Variable Speed motor control for two- and three-axis motor systems complying with the standard ASC Signal interface, using VFDs for driving the Az and El axes,
Support for single speed AC or DC Pol rotators,
Automatic positioning of antennas to pre-programmed look angles,
Optical Interfacility link,
Local control from the indoor unit through an advanced touch screen LCD and keypad,
Automatic installation commissioning assistance 10/100 BaseT Ethernet interface for external M&Cs (via the IDU),
Remote control through network-based and serial-port-based communications protocols, including both legacy protocols and SNMP,
Integral beacon receiver interfaces to support ASC Signal's patented three-point peaking step-track and SmarTrack® hybrid feedback/predictive program tracking algorithms,
NORAD and Intelsat program tracking,
Optional Monopulse tracking for Ka-band applications,
Optional integrated subreflector tracking (SRT) capability for high-accuracy Ka-band tracking, including hybrid main dish and SRT positioning and tracking
In September 2015 ASC Signal was acquired by CPI, Inc., owner of MCL and Codan. It was operating as a separate entity under the CPI umbrella, when the ASC Signal Antenna Division was merged with CPI's Malibu Division in June 2017, to form CPI Antenna Systems Division.
In 2020 CPI sold the ASC Signal Antenna division to Kratos Defense & Security Solutions, Inc. CPI had acquired GDSatcom Technologies in 2019, but the U.S. Justice Department required CPI to divest its ASC Signal Division since there would be a monopoly on the antenna business in the USA.
ASC Signal Antenna Tracking Controller NGC-IDU
ASC Signal Antenna Tracking Controller NGC-IDU