AVCOM Remote Spectrum Analyzer, 950-2,150MHz, RSA2150B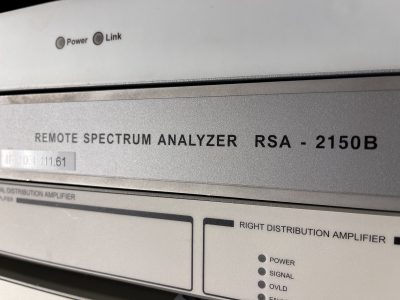 | | |
| --- | --- |
| Condition: | Used and tested |
| Model: | RSA2150B |
| Manufacturer: | Avcom, Inc. |
AVCOM, Remote Spectrum Analyzer, 950-2,150MHz, RSA2150B
The AVCOM Spectrum Analyzer RSA2150B Remote 19inch rack-mount offers the integrator total flexibility in a 1RU chassis. Configuration option makes the RSA the spectrum analyzer of choice with many SATCOM companies. The RSA can support up to 6 inputs, and when combined with a 1RU ETL switch, the user can monitor and control as many inputs as desired. It should be noted that individual inputs cannot be monitored simultaneously with the RSA, but up to 12 different RSA's can be monitored simultaneously from a central location using the AVCOM remote control software. Other options include choice of input connectors, LNB power, preamps if trying to view very small signals, attenuators if viewing very large signals, and down converters for viewing higher input frequencies. Whether you need a custom design or a simple design for your SATCOM needs, the RSA offers versatility at its best.

Performance & Specifications
The RSA is designed for the measurement and analysis of communications and broadcast carriers, making uplink, downlink, L-Band carriers, IF, and 10MHz reference signals easy to measure, monitor, and store. The RSA provides excellent frequency and amplitude accuracy along with resolution bandwidth (RBW) selection from 10kHz to 1Mhz. This is required to allow viewing and monitoring of small Telemetry, Tracking, Command Systems (TT&C), data carriers found in many satellite communications markets, spread spectrum, and Wi-Fi as well.
Making the RBW smaller is like zooming in on a carrier and magnifying a smaller portion of it to see more detail of the signal. Variable reference levels (RL) from -10dB to -50dB make viewing of smaller to larger signals possible. Zoom provides viewing at -2dB RL for close up inspection when doing signal analysis. This also makes peaking a satellite dish a snap.

Versatile Remote-Control Software
The RSA can provide discrete remote monitoring and control from anywhere in the world. The RSA is monitored and controlled using the AVCOM Remote Control Software via serial port, USB, or Ethernet. The Remote-Control Software has an intuitive user interface that is easy to use with no special training required. It allows remote monitoring and control from your network or over the internet.
Features include screen shot capture recording, SNMP for alarm/monitoring, markers, and Automated Data Acquisition (DAQ) with tolerance comparison, and integrated email alerts to name a few. Up to twelve windows can be displayed at one time. The Remote-Control Software is available for Windows, Mac, and Linux.

Features
Monitor & Control Multiple Terminals from anywhere in the world from one central location.
Teleport Ready.
1U Rack Mount Chassis 19inch rack-mount.
Easily integrated into OEM applications.
Up to 6 inputs are available.
Precise and accurate amplitude and frequency response.
Full Remote Control and Monitoring via Ethernet/RS232 using free Remote-Control Software.
Options include extended Amplitude Range Solutions, Downconverters for extended frequency coverage and LNB Power.
This is a used device that will be tested prior to shipping. Skybrokers recently provided an AVCOM RSA2150B Analyzer to a Satellite Service Provider in Sweden. Please ask us for more details.
AVCOM Remote Spectrum Analyzer, 950-2,150MHz, RSA2150B
AVCOM Remote Spectrum Analyzer, 950-2,150MHz, RSA2150B