CPI Indoor TWTA 750W Ku-band (13.75-14.50GHz) VZU-6997AD/AC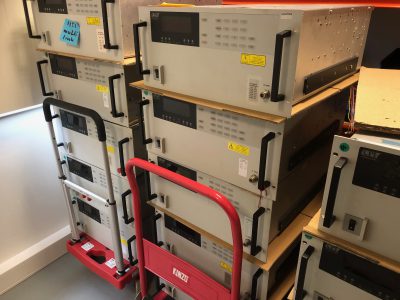 | | |
| --- | --- |
| Condition: | Used and tested |
| Model: | VZU-6997AD |
| Manufacturer: | CPI, Inc. |
CPI TWTA 750W VZU-6997AD/AC Standard Ku-band (13.75-14.50GHz) Rack-mounted (5RU) (USED)
The CPI TWTA 750W VZU-6997AD/AC Ku-band provides 750 watts of power in a 5-rack unit package, digital ready, for wide-band, single- and multi-carrier satellite service in the Ku-band frequency band. Ideal for transportable and fixed earth station applications where space and prime power are at a premium.
The VZU6997 employs a high efficiency dual-depressed collector helix traveling wave tube backed by many years of field-proven experience in airborne and military applications. This TWTA is user-friendly microprocessor-controlled logic with integrated computer interface. Digital metering, pin diode attenuation and optional integrated linearizer for improved intermodulation performance.
The CPI VZU-6997AD/AC meets International Safety Standard EN-60215, Electromagnetic Compatibility 89/336/EEC and Harmonic Standard EN-61000-3-2 to satisfy worldwide requirements. It is easy to maintain due to the modular design and built-in fault diagnostic capability with convenient and clearly visible indicators behind front panel door for easy maintainability in the field.
Please check datasheet for additional specifications.
We have various units available from the shelf that fit medium size DSNG vehicles. We provide a full test report and we will add a new power cord. Skybrokers recently provided a CPI TWTA to a broadcasting company in Australia.
CPI Indoor TWTA 750W Ku-band (13.75-14.50GHz) VZU-6997AD/AC
CPI Indoor TWTA 750W Ku-band (13.75-14.50GHz) VZU-6997AD/AC