Datum M7LT L-band Satellite Terminal Modular Satellite Modem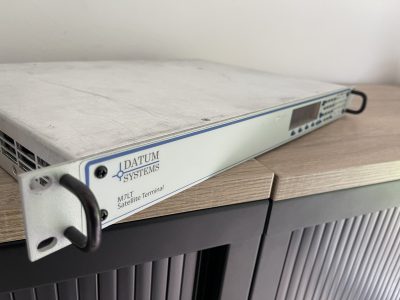 Datum M7LT-L Satellite Modem
Datum Systems innovation is transforming the SCPC and MCPC modem industry with a new generation modular modem product, the M7-series, that is versatile, compact, highly efficient and costs less to own and operate. Flexible M7 configurations include a full modem, mod-only, demod-only or multi-demod capability, all using common integrated assembly modules. Standard hardware houses our optional FlexLDPC FEC and many other advanced upgradable features to create the industry's most spectral and space-efficient low-cost modem.

Compact Modular Design
The completely new M7LT-L satellite Modem fits within a half-rack 1 RU space, saving expensive rack space at hub or remote locations. Demods can be mounted and operated side-by-side or used in a simple and clean 1:1 redundant configuration. The M7 Series Dual-Demod uses fully independent demod assemblies, which are not restricted by bandwidth allocation or single transponder requirements. The M7D and M7LD also supports multiple interface options, making it a true flexible and multipurpose demod-only platform.
Advanced FlexLDPC Onboard
With unparalleled configuration flexibility and superior coding gain, FlexLDPC takes FEC technology innovation to the next level, bringing strong economic advantages to satellite service providers and their customers. Granular code rates and block sizesget you the most out of your available satellite bandwidth and spectral power, while keeping processing latency at the desired level.
Sharp Carrier Roll-O­ Technology
The M7 Series supports advanced filter shaping for optimizied carrier spacing as a standard feature. Datum currently offers down to an 5% Alpha, which means that carriers can be spaced at 1.05 times the symbol rate instead of the historical factor of 1.35. This allows an immediate spectral efficiency increase and significant bandwidth savings, at no additional hardware or software cost. Filter Roll-Off options in the new M7 modems Series include 5%, 8%, 10%, 15%, 20%, 25%, 30%, 35% and 40%.
Internal BUC/LNB Power & Reference
The M7LT provides BUC and LNB powerfrom an integrated power supply. A High Stability10 MHz reference is also provided through the modem Input and Output Ports. Front panel voltage and current measurements are available for BUC and LNB monitoring.
Redundancy
Built-in 1:1 redundancy comes standard on the M7LT and supports BUC/LNB power and reference switching. It can be enabled through the front panel and requires only a few external cables and power splitters.
Key Highlights
• Highly Configurable Remote Terminal
• Internal BUC and LNB Power Supply
• High Stability 10 MHz Reference
• FlexLDPC Multi Block Sizes & Code Rates
• 1.2 kbps to 59.4 Mbps, 1 bps steps
• BPSK/QPSK/OQPSK/8PSK/8QAM/16QAM
• Widest Range of Carrier Roll-Off Factors
• Dual G.703/E1 Full & Fractional (N x 64)
• Advanced IP Interface
– 70,000 Packets Per Second Throughput
– Bridge and Router Modes
– Integrated Linux and Vyatta Routing
• Express Ethernet Interface
– Layer 2 Bridge, Switch Based
– 4-Port with additional SFP Port
– QoS and VLAN Support
• Lowest Latency, <15ms at 64 kbps ¾ QPSK
• Fast acquisition time
• Multi-Flo Async Channel, AUPC
• State-of-the-Art Web Browser GUI
System Architecture Support
• Point-to-Point
• Point-to-Multipoint
• Mesh
• Multicasting
Applications
• Cellular Backhaul
• Enterprise
• IP Networks
• E1 Trunking
• On-the-Move
• Bandwidth on Demand
We have one used and tested Datum Systems M7LT L-band Satellite Terminal Modular Satellite Modem available from stock. Please request information and pricing.
Datum M7LT L-band Satellite Terminal Modular Satellite Modem
Datum M7LT L-band Satellite Terminal Modular Satellite Modem