Motor/Reductor for EL & AZ for Earth Station Antennas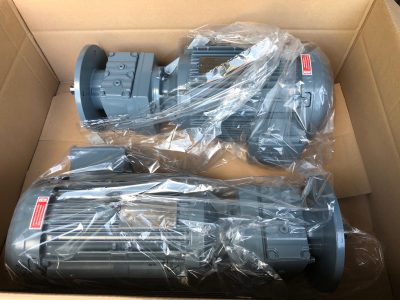 Skybrokers supplies new AZ & EL Motor/reductor assemblies with each refurbished Earth Station Antenna. We use quality products from reputed manufacturers like SEW Eurodrive.
The combination options for SEW-Eurodrive  gearmotors are as diverse and extensive as their possible uses. Thanks to the complete modular system developed by SEW‑Eurodrive, there are millions of options and can find their customized product solution for any requirement. The objective of the modular system is to be able to combine as few components as possible into the greatest possible range of end products. Skybrokers will integrate SEW quality products into their Antenna Systems.
SEW Products are:
Dynamic
Precise
Compact
High Control Quality
No magnetic power losses
Energy Efficient
IP65 degree protection
Our Technicians are checking critical parts during the antenna refurbishment and Motor/Reductor replacement. In specific cases we are replacing the motor couplers as well, when these are in poor condition.
Motor/Reductor for EL & AZ for Earth Station Antennas
Motor/Reductor for EL & AZ for Earth Station Antennas