Star One
Star One (Embratel Star One) is the satellite operator in Brazil. Embratel Star One operates five GEO satellites (Star One C1, C2, C3, C4 and D1), and two in inclined orbit (Brasilsat B4). The company is a subsidiary of telco Embratel (Empresa Brasileira de Telecomunicações S.A.), headquartered in Rio the Janeiro and is owned by América Móvil S.A.B. de C.V. from Mexico.
The company operates satellite stations in the cities of Guaratiba, located in Rio de Janeiro state and Morungaba, located in São Paulo state. Signals transmitted from these facilities have nationwide coverage and also transmit to other countries in Latin America and the United States.
The company owns one of the most reliable satellite controls of the entire planet. It is ISO certificate 9001: 2000, for the satellite control Service, was achieved after a migration between the ISO 9002: 1994 and ISO 9001: 2000. It is a historical fact for a company that was the first satellite operator in the world to have this service certified by ISO, which occurred in the year 1998.

Company History
Star One was created in December of 2000 with 80% of its stock owned by Embratel Participações and 20% by GE Satellite Holdings. Star One operates the main satellite system in Latin America with five satellites in geostationary orbit (Brasilsat B3 and B4, Star One C1, C2 and C12) and two satellites in inclined orbit (Brasilsat B1 and B2). This satellite capacity supports a vast array of solutions for telephone, TV, data and corporate network customers. Star One operates the satellite control stations from Guaratiba Teleport in Rio de Janeiro.
Embratel was the long distance arm of former state-owned monopoly operator Telebras until it was bought by the US-based MCI Communications, Inc. MCI formerly known as WorldCom, Inc, for 944 million USD during the seperation of Telebras. Telebras was broken up in July 1998 into twelve separate companies, that were auctioned to private bidders. The new companies were the long distance operator Embratel, three fixed line regional telephony companies and eight cellular companies.
In 2003 MCI Communications went bankrupt and sold their stakes in Embratel Participações S.A. to Telefonos de Mexico (TELMEX) for 360 million USD in cash. TELMEX was a sister company of América Móvil S.A.B. de C.V, the Mexico-based telecoms holding group of entrepreneur and billionaire Carlos Slim.
In 2007, Embratel became part of Telmex International, which was incorporated by América Móvil in 2010.
In 2011, aiming to ensure greater security of its services, Embratel Star One joined the SDA (Space Data Association), which is the main institution that provides space surveillance service.
Mid 2011 América Móvil purchase acquired 20% of the shares of StarOne S.A. from GE Satellite Holdings LLC, Embratel owning the remaining 80%.
In 2013 Star One ordered two satellites, Star One C4 and Star One D1, from Space Systems/Loral (SS/L) to meet new infrastructure demands in Brazil. Star One C4 was launched in July 2015 and Star One D1 was launched in 2016.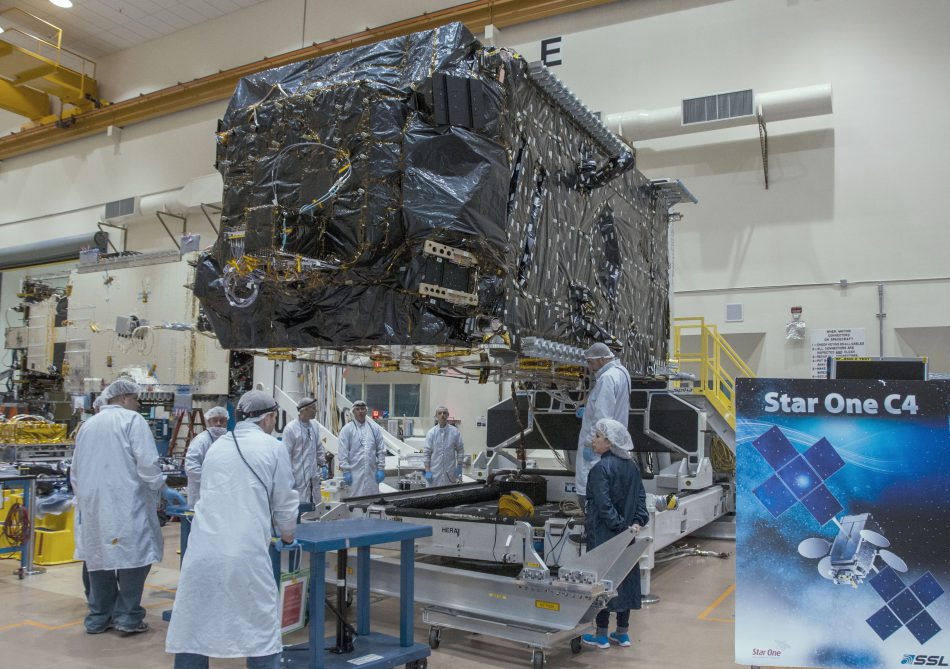 Star One D1 is equipped with C-, Ku-, and Ka-band payloads and will be used for telecommunications, television broadcast, broadband, Internet access, and other services such as digital inclusion in Brazil and in the Latin American region. Star One D1 will be the first satellite of Star One's fourth generation and will support the Olympic Games in 2016 that will take place in Rio de Janeiro.
Late 2013 América Móvil Group revelaed plans to merge its various Brazilian telecoms assets, Mobile provider Claro Brasil, broadband provider NETServicos and international communications provider Embratel, in a bid to reduce overall operational costs.
In 2017 Embratel Star One ordered the Star One D2 multiple-payload telecommunications satellite from Space Systems/Loral (SS/L). The 6,200kgs satellite, will carry commercial C-, Ku- and Ka-band capacity, along with a military X-band payload and is covering South- and Central-America regions, including Mexico and parts of the Atlantic Ocean. The Star One D2 satellite was launched on July 30th 2021 on an Ariane 5 launch vehicle operated by launch provider Arianespace.

All trademarks, logos and images mentioned and showed on this page are property of their respective owners.

Resources
www.starone.com.br
www.embratel.com.br
www.techinbrazil.com
www.worldteleport.org
www.wikipedia.org
www.mergr.com
www.telco.com.br
www.investinbrazil.biz
www.wsj.com edition March 15th, 2004
www.businesswire.com edition July 23rd, 2004
www.mobileworldlive.com edition June 3rd, 2010
www.prensario.net edition April 23rd, 2011
www.rcrwireless.com edition January 27th, 2012
www.wsj.com edition December 27th, 2013
www.commsupdate.com edition August 4th, 2014
www.spacenews.com Edition October 30th, 2017
www.americamovil.com
www.budde.com.au
www.bnamericas.com
www.marketwatch.com
www.satbeams.com
www.space.skyrocket.de