Newtec AZ110 Broadcast Modulator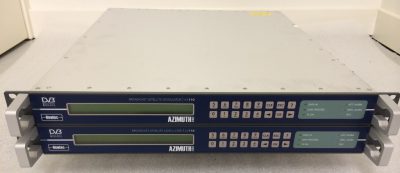 | | |
| --- | --- |
| Condition: | Used and tested |
| Model: | AZ110 |
| Manufacturer: | Newtec |
Newtec AZ110 Broadcast Modulator
The Newtec AZ110 Broadcast Modulator is a state-of-the-art satellite modulator designed for broadcast contribution, DSNG and distribution applications over satellite in full compliance with the DVB-standards. Depending on the applications and the activated features, the AZ110 can be used in conjunction with set-top boxes, professional IRDs or satellite demodulators such as the AZ910.
In its default configuration, the AZ110 is capable of transmitting one MPEG-transport stream in DVB-S, DVB-DSNG or DVB-S2 mode. The AZ110 allows automatic or manual selection between two ASI-inputs and has dual ASI monitoring outputs. Optionally, an optical ASI-interface can be added.

Key features
DVB-S2 and DVB-DSNG/S compliant
QPSK, 8PSK, 16APSK and 32APSK
Data rates up to 216 Mbit/s
ASI or optical ASI-transport stream interfaces
L-band monitoring output
Programmable amplitude slope equalizer
Optional extended L-band (950 – 2,150 MHz)
Optional DualFlow: combined ASI+GbE interface with integrated IP encapsulator
and Configurable Quality of Service (QoS)
Optional Baseband frame input support
Optional switchable BUC power supply on L-band output
Optional Multistream and/or VCM operation
Optional integrated RF upconverter
Optional 10 MHz reference input/output
Optional BISS/BISSM scrambling or AES encryption
Optional Linear and non-linear predistortion (Equalink)
Featured-based pricing and software upgradability

Main advantages
Lower operational costs thanks to highest bandwidth efficiency
Guaranteed interoperability with DVB receivers
High versatility and flexibility
Future-proof design combining video and IP technologies
High compactness

Applications
Contribution
Primary distribution
Direct-to-home
DSNG combined with IP-services
Data broadcast
Distance learning, Business TV
MVDDS
Production testing
This is a used device and will be tested prior to shipping. We provide a 90-day warranty. Skybrokers delivered various AZ110 Modulators to Broadcasters in Middle-East and USA and to Teleport Operators for the integration with their Earth Station antennas.
Newtec AZ110 Broadcast Modulator
Newtec AZ110 Broadcast Modulator