VertexRSI 4.8m C-band Earth Station Antenna, LP or CP, non-motorized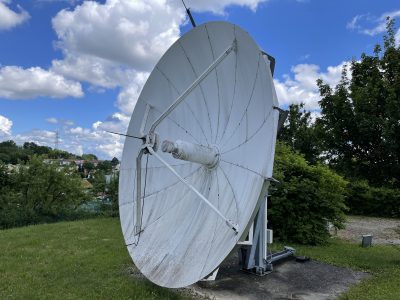 | | |
| --- | --- |
| Condition: | Used and refurbished |
| Model: | 4.8KPK |
| Manufacturer: | VertexRSI |
VertexRSI 4.8m Satellite Antenna, C-band with non-motorized Pedestal Mount
The VertexRSI (GDSatcom/CPI) 4.8m antenna delivers exceptional performance for Rx/Tx and Rx-only applications for C-band frequencies (5,850-6,425GHz). This antenna offers a deep-dish reflector that incorporates precision- formed panels, contoured radials and a machined hub assembly. It features an innovative feed and sub-reflector design which results in high gain, low noise temperature, high antenna efficiency and excellent rejection of noise and microwave interference.
The VertexRSI 4.8m C-, X- and Ku-Band antenna delivers exceptional performance for Rx-only and for Rx/Tx applications worldwide. Model KPC/KPX/KPK Compact Cassegrain antennas feature all metal reflectors which incorporate doubly-contoured, formed panels with matched radials and hub assemblies for easy bolt-together installation with no field alignment required.
The extra-large center Hub (Antenna Hub or Drum) provides spacious accommodation for equipment mounting like LNA- and HPA-systems. The reflectors, coupled with Elevation/Azimuth Kingpost Pedestals, provide a stiffness and pointing accuracy required for X-band and Ku-band operation.
The antennas are designed for full orbital arc coverage and are readily adaptable to ground or rooftop installations. This antenna system is INTELSAT, AsiaSsat, Hispasat, EuropeStar and Singapore Telecom Type approved.
Key Features
'Bolt-Together' configuration
Meets FCC Regulation 25.209 (Ku-band)
INTELSAT, AsiaSat and SingTel Type Approved
De-icing options available
We have one VertexRSI 4.8m Satellite antenna system available in CP set-up. Antennas will be fully refurbished and checked out.
VertexRSI 4.8m C-band Earth Station Antenna, LP or CP, non-motorized
VertexRSI 4.8m C-band Earth Station Antenna, LP or CP, non-motorized