Skybrokers delivered and installed a refurbished VertexRSI 6.1m antenna at M-Three Satcom in Italy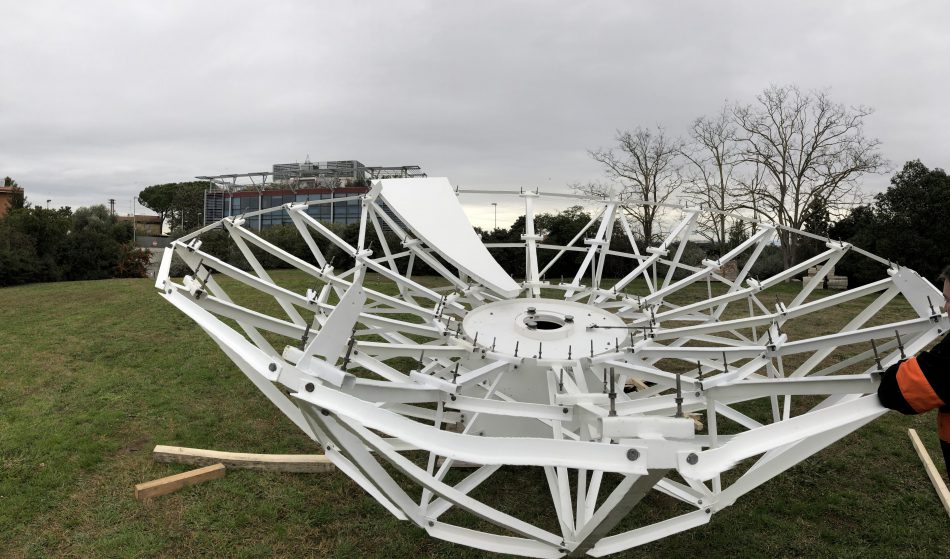 Skybrokers installed a VertexRSI 6.1m antenna
In December 2017 Skybrokers delivered and installed an used and refurbished VertexRSI 6.1m Ku-band Earth Station antenna at the M-Three Satcom Teleport in Rome, Italy. We had to overcome some logistical challenges for the delivery of the antenna parts in busy Rome. The delivery had to be planned on a Sunday to avoid traffic congestions at the local industrial area where the Teleport was located. Detailed planning of the delivery and unloading equipment took away some headaches for the customer.
The antenna was fully refurbed including reflector panel painting (2 coats), jack screws oiled & greased and hardware kits and new motors were supplied. The installation and commissioning was successfully finished by a two-member installation team in December 2017.
M-Three Satcom provides reliable, complete and cost-effective solutions to the TV and Radio international Broadcast market. The company manages an efficient network that includes two owned teleports, in Milan and Rome, a fleet of outside broadcast units for production and transmission, and a Fiber Optics infrastructure able to reach points of access and media centers all around the world.
The services include DTH platform on Hot Bird, various contribution platforms on the Eutelsat satellite fleet, HD live production and transmission and system integration services.
M-Three is headquartered in Milan, Italy and is part of the Giglio-Group that acquired the company in 2015. Giglio Group SpA, is a global multimedia and TV network listed on the AIM Italian market.