Arcturus (Aurora-4A) at 163° West (Planned)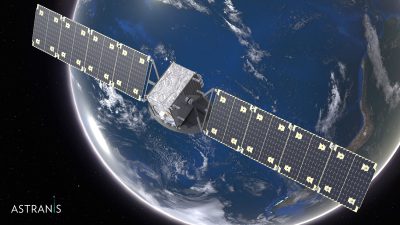 | | |
| --- | --- |
| Position: | 163° West (Planned) |
| Manufacturer: | Astranis |
| Operator: | Astranis |
| Launch operator: | SpaceX |
| Launch vehicle: | Falcon Heavy |
| Launch date: | |
| Expected lifetime: | 10 Years |
Satellite manufacturer Astranis builds Arcturus (also known as Aurora-4A), a small geostationary high-throughput communications satellite (MicroGEO) to be used to provide broadband communications services for Alaska for lease to Pacific Dataport, Inc. Astranis will be the owner and operator of the satellite.
The 300kgs Arcturus is to use electric propulsion to reach geostationary orbit. The Ku-band HTP communications payload will provide Alaska with a 7.5Gbps capacity. Initially consumers will be able to utilize a 25Mbps downlink and a 3Mb uplink.
Astranis planned to launch the satellite in Q4 of 2020 on a SpaceX Falcon 9 rocket from Cape Canaveral. The launch was delayed to 2022 with the satellite being moved to a shared Falcon Heavy rocket for a dual launch with ViaSat-3 satellite for satellite operator ViaSat.
Arcturus (Aurora-4A) at 163° West (Planned)