KazSat-3 (ҚазСат-3, QazSat-3) at 58° East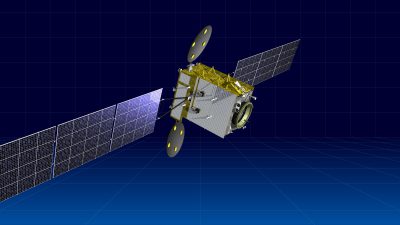 | | |
| --- | --- |
| Position: | 58° East |
| Manufacturer: | ISS Reshetnev |
| Operator: | KazSat |
| Launch operator: | ILS |
| Launch vehicle: | Proton M/Breeze |
| Launch date: | 04/28/2014 |
| Expected lifetime: | 15+ Years |
KazSat-3 satellite is the third communications satellite for JSC KazSat on behalf of the Kazakh Space Agency Kazcosmos from Kazachstan. The satellite was preceded by two previous KazSat spacecraft, KazSat-1 launched in 2006 carrying 12 Ku-Band transponders and KazSat-2 in 2011 featuring 16 Ku-Band transponders. KazSat-1 partial contact was lost in July 2008 and completely in October 2008.
KazSat-3 is equipped with an all Ku-Band payload consisting of 28 transponders and two large reflector antennas. The spacecraft will provide Direct-to-Home television services, broadband services, VSAT communication services for commercial customers, and voice, data and video communication services for customers in Kazakhstan and surrounding regions.
KazSat-3 satellite had a launch mass of  nearly 1,900 Kilograms and was designed for services of telecommunications, television broadcasting and high-speed Internet access in Kazakhstan and neighboring countries. The spacecraft is developed and produced under the contract with the Republican Centre of Space Communication within the project of creating a republican national telecommunications and broadcasting space system.
The satellite was launched on April 28th, 2014 on a Proton M carrier rocket operated by launch operator ILS from Cosmodrome Baikonur launch site in Kazakhstan.
KazSat-3 (ҚазСат-3, QazSat-3) at 58° East