Telesat LEO Vantage-1 (LEO-1)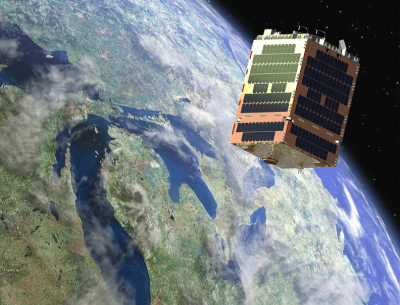 In April 2016 satellite operator Telesat from Canada ordered two prototype Ka-band HTS (High Throughput Satellite) communication satellites, as part of a test and validation phase for the advanced, global LEO satellite constellation Lightspeed that Telesat is developing.
Telesat would test and demonstrate two distinct spacecraft in LEO, a key step in optimizing the design and performance of Telesat's contemplated LEO constellation. One of the satellites (LEO-2) was be built by Space Systems/Loral (SS/L) of Palo Alto, California, and the other satellite (LEO-1) by Surrey Satellite Technology Limited (SSTL). LEO-2 was lost during the launch on a Soyuz launcher operated by ILS.
Telesat LEO Vantage-1 (LEO-1) satellite was launched on January 12th, 2018 as a co-passenger on the PLSV launch vehicle operated by ISRO from India.
Telesat LEO Vantage-1 (LEO-1)