Advantech SSPB hub mount 100W Ku-band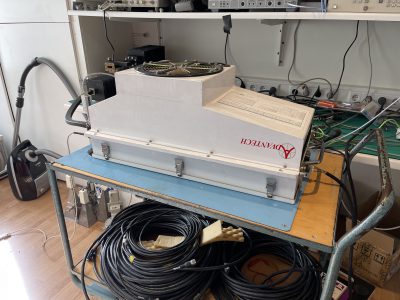 We're sorry but this product is sold
Perhaps you're interested in this alternative product:
Advantech SSPB hub mount 100W Ku-band (14.0 – 14.5Ghz) amplifier
This Advantech SSPB hub mount 100W Ku-band (14.0 – 14.5Ghz) amplifier is tested and checked out for proper operation. We provide an extensive test report, a control cable and power cable with Mil connector.
Advantech's Hub Mount High Power Solid State Power amplifiers (SSPA's) with full microprocessor based M&C and output power ranging from 80W o 125W. Designed for outdoor operation in hard environmental conditions and are particularly suited to flyaway or mobile applications as SNG, where efficiency and size considerations are critical.

Features
Microprocessor based M&C
High Gain, linearity and efficiency
Gain control (local)
Remote Gain Control adjustment
Remote RF mute capability
Temperature Gain compensation
Automatic over-temperature shutdown
Automatic high reflected power shutdown
Output sample monitor ports
Form-C contacts for fault/alarm conditions
Infinite VSWR protection
Serial port interface (RS232 or RS422/485)
Redundancy operation without external controllers
CE marking
Advantech does not manufacture these units anymore. Skybrokers provides full support during 90-day warranty period. After this period we provide support as well against costs.
Advantech Wireless, Inc. is an industry leader in design, manufacture and supplier of satellite equipment (Solid State Power Amplifiers, Block-up Converters, Converters and Transceivers, advanced VSAT Terminals, Satellite Modems, Data Broadcast Receivers and Antenna Control Systems) and wireless communications. The company also provides end-to-end, total communications solutions to the military, telephone companies, telecommunications service providers, ISP's, wireless operators, broadcast operators, system integrators and Fortune 500 enterprises around the globe.
In 2018 Baylin Technology Company acquired the radio frequency, terrestrial microwave and antenna equipment divisions of Advantech Wireless, Inc.
Skybrokers offers for over 10 years Advantech Wireless SSPA's, BUC's, Frequency Converters and Modems. We supported several clients with new and used BUC's and SSPA's such as the 40W Extended Ku-band BUC and 50W Ku-band and 150W C-band outdoor SSPA.
Advantech SSPB hub mount 100W Ku-band