Andrew 4.9m Ku-band Earth Station Antenna with fixed Pedestal Mount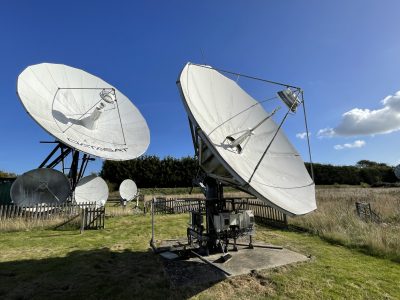 | | |
| --- | --- |
| Condition: | Used and refurbished |
| Model: | ES49P |
| Manufacturer: | Andrew Corp. |
Perhaps you're interested in this alternative product:
Andrew 4.9m Ku-band Earth Station Antenna with fixed Pedestal Mount
This Andrew 4.9m Ku-band Earth Station Antenna is providing high gain and exceptional pattern characteristics, when properly installed by Skybrokers professional installers.
In general, this antenna system is designed to address the stringent requirements of both the television broadcast industry and telecommunications network operators who demand unsurpassed flexibility and electrical performance in high-quality, cost-effective and reliable packages.
This antenna system is used worldwide in broadcast applications and high-density data, voice and communications networks. The Andrew 4.9m Earth Station Antenna features a computer-optimized dual reflector Gregorian optics system and close-tolerance manufacturing techniques.
This combination provides extremely accurate surface contour resulting in exceptionally high gain and closely controlled pattern characteristics. Andrew/ASC Signal/Kratos Earth Station Antennas provide maximum durability with minimal maintenance.

Features 
Self-aligning main reflector – no optical field alignment
3-year warranty on all structural components
FCC paragraph 25.209 for mandatory pattern requirements for 2-degree satellite spacing based on off satellite measurement at Ku- Band
Configured for K-band (DBS-band) transmit and receive
Low PIM Capabilities
Full reflector de-icing enclosure
WG Cross-over kit
2010 vintage
This antenna system is available from stock EXW Europe. We will clean and check-out the antenna prior to sale. The de-icing system as showed in the pictures has been disposed of due to poor condition. We are happy to provide you with a new OEM de-icing system. Please ask for more details.
Andrew 4.9m Ku-band Earth Station Antenna with fixed Pedestal Mount
Andrew 4.9m Ku-band Earth Station Antenna with fixed Pedestal Mount