Andrew 5.6m Ku-band Earth Station antenna 4-port RxTx with Motorized Tripod Mount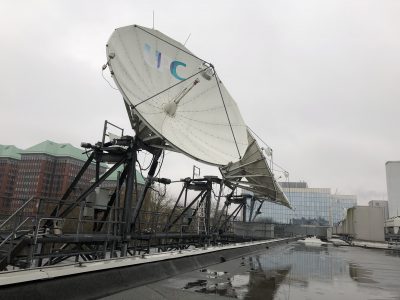 | | |
| --- | --- |
| Condition: | Used and refurbished |
| Model: | ES56-1 |
| Manufacturer: | Andrew Corp. |
We're sorry but this product is sold
Perhaps you're interested in these alternative products:
Andrew 5.6m Ku-band Earth Station antenna, 4-port RxTx, Motorized Tripod Mount with AZ/EL jackscrews
This Andrew 5.6m Ku-band earth station antenna features a uniquely formed dual reflector Gregorian system. This configuration coupled with close-tolerance manufacturing provide maximum durability with minimal maintenance.
In addition, the 5.6m Ku-band antenna features a tripod ground mount fabricated from hot-dipped galvanized steel to ensure extended product life. This Andrew Earth Station Antenna 5.6m, in Ku-band, Rx/Tx, 4-port Linear feed, Dual reflector Gregorian has a Motorized Tripod Mount and has High Gain and is easy to assemble with no field alignment. Antenna has 12-piece Precision formed aluminum reflector segments, WR75 Waveguide Interface flange and a Hub enclosure. 
This Andrew 5.6m antenna conforms to the highest mechanical design standards and is capable of surviving winds up to 200 km/h (120mph). The wind loads are mentioned in the datasheet. We supply foundation kits, powerbox and a handheld controller to move antenna thru motorization.
Skybrokers has various 5.6m antenna systems available, from stock or coming in very soon. Please contact us for up-to-date information with regards to refurbishment time.
Do you want to see how we dismantled this Andrew antenna? The de-installation was part of a project where we dismantled and removed 30+ satellite antennas from a 4-story building in Amsterdam, The Netherlands. Project was completed in January 2018. Please watch the video on YouTube: Skybrokers de-installs 30+ Satellite Antennas in Amsterdam, The Netherlands. 
Andrew 5.6m Ku-band Earth Station antenna 4-port RxTx with Motorized Tripod Mount
Andrew 5.6m Ku-band Earth Station antenna 4-port RxTx with Motorized Tripod Mount