Andrew 7.6m Ku-band Earth Station antenna 4-port RxTx with Motorized Tripod Mount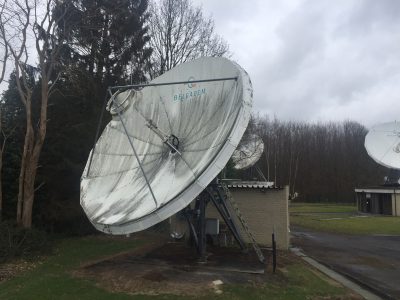 | | |
| --- | --- |
| Condition: | Used and refurbished |
| Model: | ES76-1 |
| Manufacturer: | Andrew Corp. |
We're sorry but this product is sold
Perhaps you're interested in this alternative product:
Andrew 7.6m Ku-band Earth Station antenna, 4-port RxTx, Motorized Tripod Mount with AZ/EL jackscrews
This Andrew 7.6m Ku-band earth station antenna features a uniquely formed dual reflector Gregorian system. This configuration coupled with close-tolerance manufacturing provide maximum durability with minimal maintenance.
In addition, the 7.6m Ku-band antenna features a tripod ground mount fabricated from hot-dipped galvanized steel to ensure extended product life. This Andrew Earth Station Antenna 7.6m, in Ku-band, Rx/Tx, 4-port Linear feed, Dual reflector Gregorian has a Motorized Tripod Mount and has High Gain and is easy to assemble with no field alignment. Antenna has 16-piece Precision formed aluminum reflector segments, WR75 Waveguide Interface flange and a Hub enclosure.
This Andrew 7.6m antenna conforms to the highest mechanical design standards and is capable of surviving winds up to 200 km/h (120mph). The wind loads are mentioned in the datasheet. We supply foundation kits, powerbox and a handheld controller to move antenna thru motorization. Tracking system can be offered as option.
This antenna was dismantled in October 2021 by our professional installation team, as part of a Teleport decommissioning. Check out amazing pictures made during the operation, on Skybrokers project page. Please contact us for up-to-date information with regards to refurbishment time.
Features Andrew 7.6m Ku-band Earth Station antenna 4-port RxTx
High Gain, Excellent Pattern Characteristics
Advanced Gregorian Optics
Rugged Aluminum and Steel—125 mph (200 kph)
Wind Survival
No Field Alignment (C-Band)
Skybrokers offers for over 10 years Andrew Satellite Earth Station Antennas, new as well as used. We can provide turnkey solutions, refurbishment and upgrades. We supported several clients with new and used antennas, such as the Andrew 3.7m, 4.5m and 4.6m, 5.6m, 7.3m, 7.6m and 9.3m.
Visit our Andrew supplier page for more information about the company and other Andrew Antennas we offer.
Andrew 7.6m Ku-band Earth Station antenna 4-port RxTx with Motorized Tripod Mount
Andrew 7.6m Ku-band Earth Station antenna 4-port RxTx with Motorized Tripod Mount