Comtech EFData CDM-570 IF Satellite Modem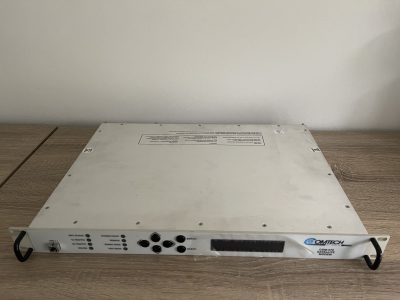 Comtech EFData CDM-570 IF Satellite Modem
The Comtech EFData CDM-570 IF Satellite Modem is the entry-level satellite modem that provide industry leading performance and flexibility in a 1RU package at a very competitive price. It is the platform of choice for Network Operators, Enterprise users, Service Providers, Broadcasters and Government users for a wide range of applications – Cellular Backhaul over IP, Voice-over-IP (VoIP), LAN/WAN connectivity, Satellite News Gathering (SNG), Communication-on-the-Move, Maritime, Off- shore applications etc.
Designed to address the market for low-cost terminals, the modem is available with 70/140 MHz or L-band IF and EIA-530/-422, V.35, EIA-232 and G.703 data interfaces. An optional Internet Protocol (IP) Module with 10/100BaseT Ethernet port is available for IP centric applications.
The advanced FPGA-based architecture along with the internal Flash memory allows for easy field upgrades via the Ethernet port.

Key Features  
Data rate range from 2.4 kbps to 9.98 Mbps
CDM-570: 50 to 90 or 100 to 180 MHz IF range
CDM-570L: 950 to 1950 MHz IF range
Fast acquisition demodulator (± 32 kHz acquisition range, 64 kbps, Rate 1/2 QPSK: 150 ms average)
Modulation types: BPSK, QPSK, OQPSK, 8-PSK, 8-QAM, 16-QAM
Forward Error Correction (FEC) choices include
Turbo Product Code (TPC), Viterbi, Reed-Solomon, and Trellis Coded Modulation (TCM)
Automatic Uplink Power Control (AUPC)
Embedded Distant-end Monitor and Control (EDMAC)
Asymmetric Loop Timing
Built-in 1:1 redundancy controller (Y-cables for data, simple and inexpensive external module for IF and RF)
1:1 and 1:10 redundancy switches available
CDM-570: FSK communications to CSAT-5060 or KST-2000A
CDM-570L: 10MHz reference for BUC, FSK communications and optional BUC power supply
CDM-570L: 10MHz reference and power supply for LNB
Backwards compatible with the Comtech EFData CDM-500/CDM-550, CDM-550T, CDM-600, and CDM-600L modems
Interoperable with Comtech EFData SDM-300A and SDM-300L3
10/100BaseT Ethernet port for M&C with Web-browser, SNMP and Telnet support
IP Module with 10/100BaseT Ethernet port
Vipersat Management System (VMS) integration
703 Clock Extension for IP backhaul
We have various units available in new condition. A 90-day warranty is provided and we test the unit prior to shipment. We can release quickly EXW The Netherlands.
Comtech EFData CDM-570 IF Satellite Modem
Comtech EFData CDM-570 IF Satellite Modem