Datum PSM-500L Satellite Modem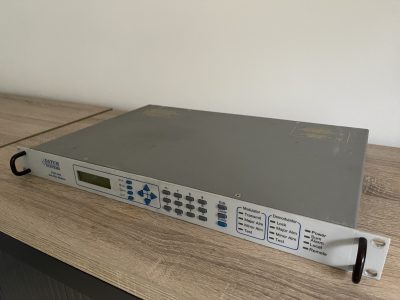 | | |
| --- | --- |
| Condition: | Used and tested |
| Model: | PSM-500L |
| Manufacturer: | Datum Systems |
Datum PSM-500L Satellite Modem
The Datum Systems PSM-500L Satellite Modem offers reliability and efficiency. Datum Systems' high-performance L-Band Satellite Modem is the industry's most reliable & flexible modem in its class with multiple external BUC supply options for easy field configurability. The PSM-500L is unmatched by any other modem for its BER performance, fast acquisition, low latency and total power/bandwidth optimization.

Key Highlights 
FlexLDPC Multi Block Sizes & Code Rates
External BUC Power Flexibility
High Stability 10MHz Reference
2 kbps to 29.5 Mbps
BPSK/QPSK/OQPSK/8PSK/8QAM/16QAM
TPC, Viterbi, TCM, Reed Solomon
Most FEC Types and Modcods
Ethernet IP Interface
Bridge and Router Modes, QoS
SCPS – TCP/IP Acceleration
Lowest Latency, <15 ms at 64 kbps 3⁄4 QPSK
Typical acquisition time, 71 ms at 64 kbps
Async Channel, AUPC
Remote Modem Control Channel
Tx Output of 40 dB, +5 to –35 dBm
Optional SNMP Remote Interface
Web Browser GUI

Applications
Cellular Backhaul
Enterprise
IP Networks
On-the-Move
Bandwidth on Demand
We have one PSM-500L L-band Satellite modem available from the shelf and can be released quickly after power-on test. We provide a 90-day warranty and we can ship worldwide EXW The Netherlands.
Datum PSM-500L Satellite Modem
Datum PSM-500L Satellite Modem