Newtec (ST Engineering) MDM6000 High Speed Satellite IP Modem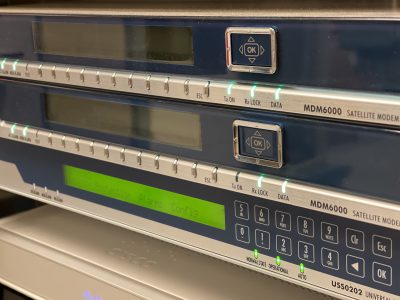 | | |
| --- | --- |
| Condition: | New OEM |
| Model: | MDM6000 |
| Manufacturer: | Newtec |
Newtec (ST Engineering) MDM6000 High Speed Satellite IP Modem
The Newtec MDM6000 Satellite Modem is a versatile next generation modem optimized for a wide range of applications such as cellular backhauling, IP trunking and fiber restoration. The MDM6000 modem is typically installed at both ends of a point-to-point satellite link or at the remote sites of a star network.
The MDM6000 High Speed is identical to the regular MDM6000 with the addition of an external packet processor that handles encapsulation, decapsulation, shaping and QoS to achieve even higher pps performance than those offered by the regular MDM6000. Up to 800 kpps can be handled by a single modem. The modem is in full compliance with the DVB-S2 and DVB- S2X standards, achieving the highest possible efficiency at maximum service availability.

Key Features
Very granular rate licensing scheme with rates from 20 Mbps up to 425 Mbps bi-directional
Suitable for low, medium and high speed applications, baudrates up to 133 MBaud to handle all common transponder sizes
Clean Channel Technology for additional bandwidth efficiency gains by allowing optimal carrier spacing
DVB-S2, DVB-S2X (QPSK up to 256APSK)
Newtec S2 Extensions (up to 64APSK) for closed network operation
Default IF and L-band on TX and RX for ease of operation
Optional Equalink 3 for linear and non-linear pre-distortion
Reduce impact of RF Interferences (RFI) by enabling DVB RF
Carrier ID (DVB-CID)
All MODCODs and baudrates default enabled for flexible and optimal operation of the network
Intelligent Uplink Power Control
NLPC (non-linear post compensation) for intermod removal
FlexACM for adaptive environments like variable interferences from rain and dust or for inclined orbit operation
Standard GSE encapsulation for minimal overhead
Support for MPE, ULE and XPE for working with legacy equipment
Adaptive traffic shaping and bandwidth management allowing maximal SLA adherence even in case of ACM
Advanced Quality of Service (QoS) for better customer experience
Built-in spectrum analyzer and constellation diagram viewer
Easyoperationthroughsecurefrontpanel,SNMP,HTTPand
CLI interfaces
Modified OpenAMIP support to interwork with stabilized antennas from different vendors

Markets
Enterprise
Cellular Backhaul
Broadcast
Skybrokers has supplied various MDM6000 modems to Satellite Services providers and Teleport Operators. As Newtec BE-partner we have special pricing agreements and we can deliver relatively quicker, ex works Belgium. Please ask us for more information.
Newtec (ST Engineering) MDM6000 High Speed Satellite IP Modem
Newtec (ST Engineering) MDM6000 High Speed Satellite IP Modem